Three Forms and Reports
In this chapter you will: complete this project and practice these skills.
Project 3A Creating Forms and Reports
Objectives
Create an AutoForm

Use a Form to Add and Delete Records

Create a Form Using the Form Wizard

Modify a Form

Create an AutoReport

Create a Report Using the Report Wizard

Modify the Design of a Report

Print a Report and Keep Data Together
---
[Page 1050]
Lake Michigan City College
© Getty Images, Inc.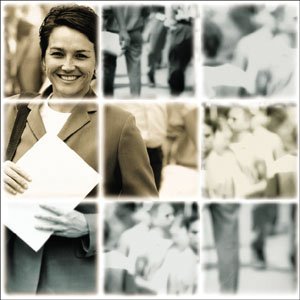 Lake Michigan City College is located along the lakefront of Chicagoone of the nations most exciting cities. The college serves its large and diverse student body and makes positive contributions to the community through relevant curricula, partnerships with businesses and nonprofit organizations, and learning experiences that allow students to be full participants in the global community. The college offers three associate degrees in 20 academic areas, adult education programs, and continuing education offerings on campus, at satellite locations, and online.
[Page 1050 (continued)]
You can both enter and view database information in the database table itself. However, for entering and viewing information, it is usually easier to use an Access form. Forms can be designed to display one record at a time, with fields placed in the same order to match a paper source document. When the form on the screen matches the pattern of information on the paper form, it is easier to enter the new information.
When viewing information, it is also easier to view just one record at a time. For example, your college counselor can look at your college transcript in a nicely laid out form on the screen without seeing the records of other students at the same time.
Reports in Access summarize the data in a database in a professional-looking manner suitable for printing. The design of a report can be modified so that the final report is laid out in a format that is useful for the person reading it. In this chapter, you will create and modify both forms and reports for Access databases.
[Page 1051]
---

GO! with Microsoft Office 2003 Brief (2nd Edition)
ISBN: 0131878646
EAN: 2147483647
Year: 2004
Pages: 448
---