One Getting Started with PowerPoint 2003
In this chapter, you will: complete this project and practice these skills.
Project 1A Editing and Viewing a Presentation
Objectives
Start and Exit PowerPoint

Edit a Presentation Using the Outline/Slides Pane

Format and Edit a Presentation Using the Slide Pane

View and Edit a Presentation in Slide Sorter View

View a Slide Show

Create Headers and Footers

Print a Presentation

Use PowerPoint Help
---
[Page 1136]
The City of Desert Park
© Getty Images, Inc.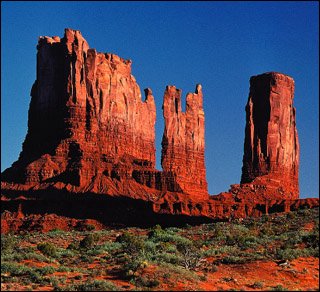 Desert Park, Arizona, is a thriving city with a population of just under 1 million in an ideal location serving major markets in the western United States and Mexico. Desert Parks temperate year-round climate attracts both visitors and businesses, and it is one of the most popular vacation destinations in the world. The city expects and has plenty of space for long-term growth, and most of the undeveloped land already has a modern infrastructure and assured water supply in place.
[Page 1136 (continued)]
Presentation skills are among the most important skills you will ever learn. Good presentation skills enhance all your communicationswritten, electronic, and interpersonal. In our fast-paced world of email, pagers, and wireless phones, communicating ideas clearly and concisely is a critical personal skill. Microsoft Office PowerPoint 2003 is a presentation graphics software program that you can use to effectively present information to your audience. PowerPoint is used to create electronic slide presentations, black-and-white or color overhead transparencies, and 35mm slides.
[Page 1137]
---

GO! with Microsoft Office 2003 Brief (2nd Edition)
ISBN: 0131878646
EAN: 2147483647
Year: 2004
Pages: 448
---