Microsoft Performance Monitor is a Windows 2000 Server application that uses Windows 2000 performance counters to create statistics. It displays the activities and status of the system. Performance Monitor reports both general and specific information in real time. You can use Performance Monitor to collect and display system and device statistics for any Cisco CallManager installation.
Performance Monitor, like the Cisco CallManager Serviceability tool, monitors and logs resource counters from the Cisco CallManager nodes in the network and displays the counters in real time. The update interval could be set to a period between 1 second and 45 days.
Performance Monitor can collect data from multiple systems at once and store it in a single log file. The monitor can then export this log file to a Tab-Separated Values (TSV) file or a Comma-Separated Values (CSV) file that you can view in most spreadsheet applications.
To access Performance Monitor, choose Start > Settings > Control Panel > Administrative Tools and choose Performance.
Note
Extensive monitoring (monitoring a very large number of counters and using short interval times) could cause rising processor usage. Therefore, it is recommended that you use Performance Monitor only for special situations and not as a network management tool.
Microsoft Performance Monitor Report View
Microsoft Performance Monitor needs to be customized for the parameters related to monitoring Cisco CallManager by choosing the objects, counters, and instances to include. As shown in Figure 31-4, Performance Monitor supports a very concise report view. Many administrators prefer this view because it gives exact figures rather than general estimates on a line chart.
Figure 31-4. Microsoft Performance Monitor Report View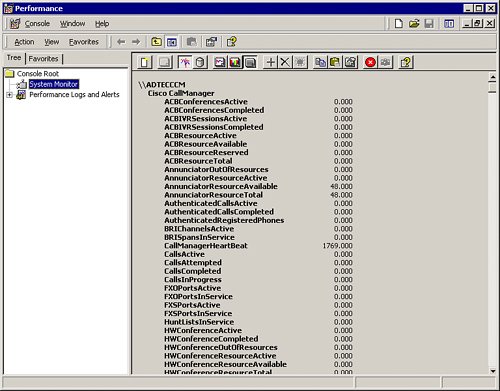 Within Performance Monitor, alarms can be enabled to report certain value thresholds. For example, the number of telephone devices active on Cisco CallManager can be set to a particular level. If the number of devices exceeds that level, the monitor sends a network message alert to the administrator or the person in charge. To create such an alert threshold, right-click Performance Logs and Alerts > Alerts and choose New Alert Settings.
Note
Data collection must be enabled in Cisco CallManager for Performance Monitor to collect data. To verify that data collection is enabled, check the current settings in the Cisco Real-Time Information Server (RIS) Data Collector Service Parameters Configuration window in Cisco CallManager Administration. By default, the Data Collection Enabled parameter is set to True.
Microsoft Performance Monitor Graph and Histogram View
Microsoft Performance Monitor provides graph and histogram graphical views for a visual overview of how the system is currently in use and how it changes.
The graph view (shown in Figure 31-5) is ideal to see the current status of the counters and how they have changed over the most recent period. You can specify the period for status updates and include it in the graph. Using this tool is similar to using a heart-rate monitor. It displays the heartbeat of the monitored performance objects.
Figure 31-5. Microsoft Performance Monitor Graph View
In contrast to graphs, the histogram view (shown in Figure 31-6) shows only the current status of the selected performance object counters. Because it uses only a single bar for each counter, the histogram view is ideal for monitoring many performance counters. To switch between the graph and histogram views, use the graph and histogram icons from the system monitor toolbar or press Ctrl-G (graph) and Ctrl-B (histogram) alternately.
Figure 31-6. Microsoft Performance Monitor Histogram View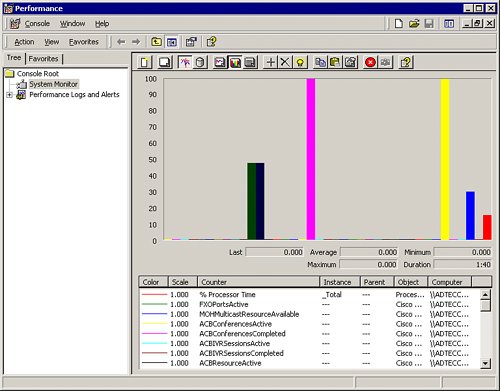 Microsoft Windows Task Manager
In addition to Microsoft Performance Monitor, you can use Windows Task Manager (shown in Figure 31-7) to get a fast view of the base performance values of CPU and memory usage. The Performance tab of Task Manager shows the CPU and memory usage of the system as a graph and histogram. Moreover, it provides some additional counter values, such as paged kernel memory in plain text. It is an ideal tool to get a quick impression of system health and activity, for example, if the system is working very slowly.
Figure 31-7. Microsoft Windows Task Manager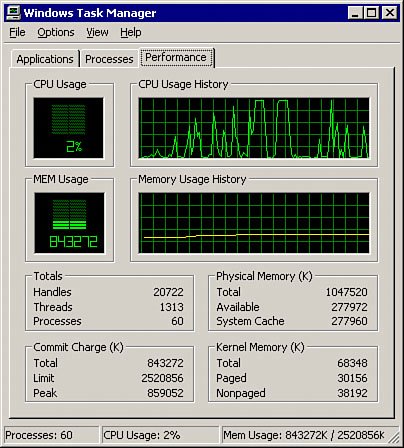 To access Windows Task Manager, right-click the taskbar and choose Task Manager from the menu or press the Ctrl-Shift-Esc shortcut.
Note
Windows Task Manager influences system performance because it also monitors all system processes and running programs. Therefore, it is recommended that you use it only to get a snapshot of the current situation and not for prolonged monitoring.
Part I: Cisco CallManager Fundamentals
Introduction to Cisco Unified Communications and Cisco Unified CallManager
Cisco Unified CallManager Clustering and Deployment Options
Cisco Unified CallManager Installation and Upgrades
Part II: IPT Devices and Users
Cisco IP Phones and Other User Devices
Configuring Cisco Unified CallManager to Support IP Phones
Cisco IP Telephony Users
Cisco Bulk Administration Tool
Part III: IPT Network Integration and Route Plan
Cisco Catalyst Switches
Configuring Cisco Gateways and Trunks
Cisco Unified CallManager Route Plan Basics
Cisco Unified CallManager Advanced Route Plans
Configuring Hunt Groups and Call Coverage
Implementing Telephony Call Restrictions and Control
Implementing Multiple-Site Deployments
Part IV: VoIP Features
Media Resources
Configuring User Features, Part 1
Configuring User Features, Part 2
Configuring Cisco Unified CallManager Attendant Console
Configuring Cisco IP Manager Assistant
Part V: IPT Security
Securing the Windows Operating System
Securing Cisco Unified CallManager Administration
Preventing Toll Fraud
Hardening the IP Phone
Understanding Cryptographic Fundamentals
Understanding the Public Key Infrastructure
Understanding Cisco IP Telephony Authentication and Encryption Fundamentals
Configuring Cisco IP Telephony Authentication and Encryption
Part VI: IP Video
Introducing IP Video Telephony
Configuring Cisco VT Advantage
Part VII: IPT Management
Introducing Database Tools and Cisco Unified CallManager Serviceability
Monitoring Performance
Configuring Alarms and Traces
Configuring CAR
Using Additional Management and Monitoring Tools
Part VIII: Appendix
Appendix A. Answers to Review Questions
Index