| | |
| --- | --- |
| | One of the many new features of FileMaker 8 is the capability to add comment notes to the Relationships Graph. To do so, click the button with an A on it and drag a rectangle on the Relationships Graph. Refer to the example provided in Figure 27.3. |
Figure 27.3. Comment notes in FileMaker 8 make effectively documenting the Relationships Graph possible.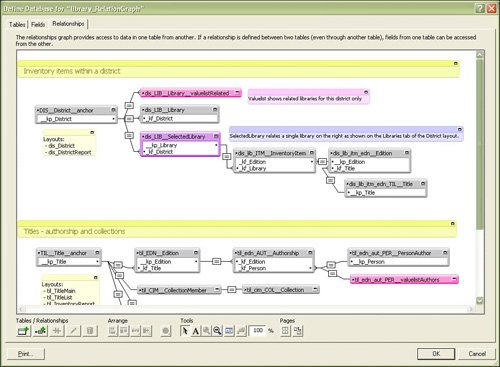 The Relationships Graph is one of the most difficult elements of a solution to document; in a moderately complex database, weve found it common to have literally hundreds of table occurrences in use.
Soliant Consulting, the authors custom development service firm, has developed a specific methodology called "The Anchor Method" for working with the Relationships Graph. There are two other general approaches in the FileMaker community as well. Regardless of which you prefer, we strongly urge you to adopt a systematic way to organize and name your table occurrences and to liberally use comment notes.