Chapter at a Glance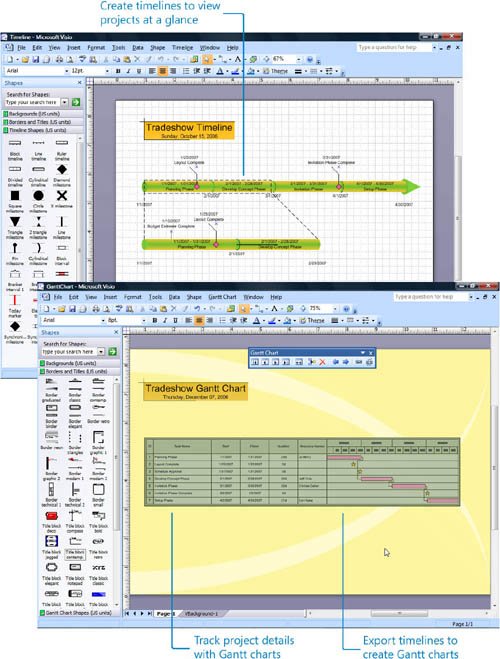 In this chapter, you will learn how to:

Create timelines to view projects at a glance.

Export timelines to create Gantt charts.

Track project details with Gantt charts.
Effective project schedules are vital to a successful project. Project schedules help you track project dates, milestones, phases, and tasks. Although there are many ways to create project schedules, the finished product should make it easy to see the progress of the project from the big picture down to the details.
In Microsoft Office Visio, you can use timelines to visualize your overall project plan and present this information to executives and others who need to grasp it quickly. For project managers or team members who need more detail, you can create Gantt charts that display project specifics in a visual form that's easy to comprehend. Timelines and Gantt charts can help you keep your project on track, and they ultimately contribute to the success of your project.
In this chapter, you'll learn how to use Visio timelines and Gantt charts to track projects and display progress visually. You'll learn how to create a timeline to view the project schedule at a glance, export the timeline data to create a Gantt chart, and track project details with the Gantt chart.
Do you need only a quick refresher on the topics in this chapter? See the Quick Reference entries on pages xxvxlii.
Important
| | |
| --- | --- |
| | Before you can use the practice files in this chapter, you need to install them from the book's companion CD to their default location. See "Using the Book's CD-ROM" on page xix for more information. |