Chapter at a Glance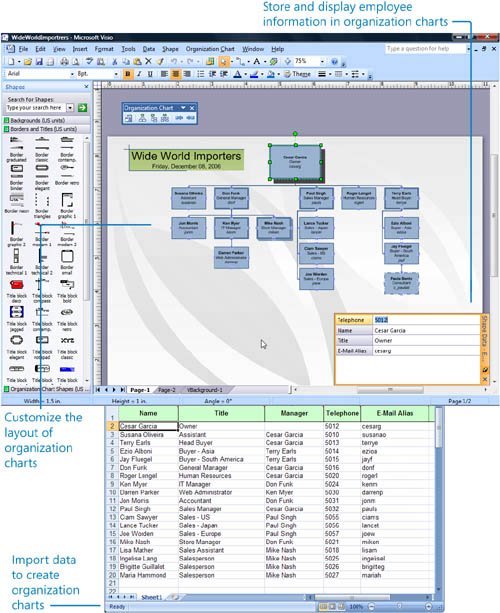 In this chapter, you will learn how to:

Import data to create organization charts.

Store and display employee information in organization charts.

Customize the layout of organization charts.
Organization charts are used to visually document the groups within an organizationsuch as departments and teamsand their reporting relationships. Using the Organization Chart template in Microsoft Office Visio, you can easily create organization charts by dragging shapes, which represent people within an organization, onto the drawing page. By taking advantage of the intelligent behavior of these shapes, you can show employee relationships within an organization. For example, when you drag shapes on top of other shapes, Visio positions and connects the shapes for you, creating the reporting hierarchy as you add shapes to the drawing page. Shapes in organization charts can also store information about the people and relationships within the organization, and you can show as much or little of that information as you choose. You can also rearrange the shapes in a chart and create synchronized copies of departments without redrawing the hierarchy from scratch.
With the Organization Chart Wizard template, you have even more options. The template includes a step-by-step approach to building organization charts from information stored in data files or information that you enter in the wizard. If you already have organization data stored in a file and you don't want to create a chart from scratch, or if you prefer entering data into a wizard rather than dragging shapes onto a drawing page, this template is for you.
In this chapter, you import human resources data from a Microsoft Office Excel spreadsheet to create an organization chart for Wide World Importers. You view the additional data stored with each shape, modify the data, display some of the data in the chart, and then format the text in each shape. Finally, you change the layout of the chart, insert a hyperlink, and add color and a background to enhance the chart's appearance.
Do you need only a quick refresher on the topics in this chapter? See the Quick Reference entries on pages xxvxliii.
Important
| | |
| --- | --- |
| | Before you can use the practice files in this chapter, you need to install them from the book's companion CD to their default location. See "Using the Book's CD-ROM" on page xix for more information. |