Six ThingsManagers Must Do How to Support Lean Six Sigma
Overview
The preceding chapters of this book are intended to help employees fill their role in supporting your Lean Six Sigma initiative. But as we all know their success depends on the environment that managers create around that initiative. There are six "must do's" for managers that will set the stage for employee success:
Pick the right projects
Pick the right people
Follow the method
Clearly define roles and responsibilities
Communicate, communicate, communicate
Support education and training
Pick the right projects
One of the reasons that previous quality improvement methods have failed is that people had no guidelines to work from in selecting projects. So employees would end up doing projects like "redesign the cafeteria" or "set up a new system for assigning parking spaces." Yes, these kinds of projects may make some people feel better, but even if they were successful, the company's customers saw no gains in quality, speed, or cost. And managers saw only money going out with no benefit to the numbers that the CEO was watching! No wonder that a lot of them became disillusioned and stopped supporting the improvement efforts.
The early days of Six Sigma weren't much different. Often times, a company would let the Black Belts pick projects, sometimes with input from Champions and process owners. Unfortunately, this approach often led to projects that might generate improvements, but that weren't really linked to critical business needs.
The companies who have contributed to the development of Lean Six Sigma know that it lives and dies with project selection. If you don't have people working on the right things, it won't matter how good they get at problem solving and improvement. So there's a lot more guidance given to people now in selecting the "right" projects, those that…
Are linked to corporate strategies and priorities. There should be clear links all the way down from your CEO's annual strategies to specific projects. (This presumes that corporate strategies have been chosen to benefit your customers as well as the business, so that the frontline projects can also be traced directly to benefits that your customers will notice.)
Are realistic in scope. Far too many companies have seen quality initiatives fail because they were picking problems of the "solve world hunger" scope. In some cases, it does pay to have an experienced team of problem solvers attack broad, complex problems. But by and large you'll be better off selecting projects you think that new project teams can realistically complete in three months or less. How will you know? You may not, at first. But you can talk to other people involved with project teams and learn from their mistakes. You can learn-as-you-go, periodically evaluating projects launched in your organization to learn what makes for a realistic project in your environment.
Have identifiable and measurable hard results. Lean Six Sigma puts a strong emphasis on making sure that the dollars you invest in projects can be measured on the bottom line. There are some up front costs: a lot of time and expense occurs during the training and startup phase. But a well-designed Lean Six Sigma process more than pays for its costs during the first year of implementation. (That said, don't ignore the softer results you'll see with projects, such as improved morale, fewer hassles in the workplace, greater collaboration, and so on. It's just that rarely, if ever, should you pick a project solely because of its soft-side potential.)
A final tip on project selection: keep the project pipeline well stocked. Typically, companies go through a formal project discovery or identification process each year, then narrow down the list based on capabilities and priorities. In doing so, you need to think about not only what projects you're going to launch immediately, but what projects will come next. When one project is completed, what will take its place? Suppose, for example, that a team discovered that a project really isn't as important to customers as originally thought, or that the expected return isn't as large as predicted. What would you have the team do instead?
Focus + Prioritization = Fast Results
One of the main selling points of Lean Six Sigma is that companies who do it well get really quick payback from their investment of time and effort. That happens because they use the guidelines discussed here to select IMPORTANT projects that are linked to the key issues for the business. In the past, an organization might launch 50 projects at a time just because they all sounded like good ideas. But Lean Six Sigma organizations are more likely to focus attention on the 5 or 10 that they can show have the biggest potential.
Someone Who Needs Help With Project Selection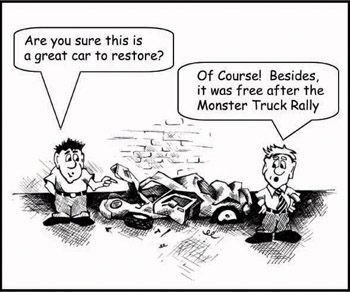 Pick the right people
A big theme in this book has been adding rigor to decisions that previously have been based on judgment, experience, or gut instinct alone. That theme holds true when selecting the people to fill the new Lean Six Sigma roles we defined back in Chapter 7 (Champions, Black Belts, project team members, etc.). Going into details is beyond the scope of this book, but be aware that a lot of people have spent a lot of time developing methods that can help you identify the individuals or groups (and the combination of skills, abilities, personalities) to fill the new positions.
Follow the method
The vast majority of methods and techniques associated with Lean Six Sigma have evolved over the past few decades (or longer). They are based on a lot of experience with what does and doesn't work in practice. You can be a more effective manager if you adopt Lean Six Sigma practices such as…
Always asking to see the data when employees present you with a suggestion or idea.
Working with a Black Belt to develop ways to "make waste visible" in your work area. Simple data charts and flow charts, maintained by you or your employees, can keep people focused on improvement goals.
Fully participating in the DMAIC reviews for teams working on issues that affect your work area.
Clearly define roles and responsibilities
In setting up a Lean Six Sigma infrastructure, you also set up potential conflicts in authority and responsibility. Being clear about the responsibilities of both the management and Lean Six Sigma roles will help you avoid innumerable conflicts.
A RACI format that helps people sort out and clarify responsibilities is a useful tool for this situation. The letters stand for different levels of expectation:
Responsibility, for people who are expected to actively participate in the activity and contribute to the best of their abilities
Accountability, denoting the person ultimately held responsible for the results
Consultation, for the people/groups who either have a particular expertise they can contribute to specific decisions (i.e., their advice will be sought) or who must be consulted with for some other reason before a final decision is made (e.g., finance is often in a consultation role to projects)
Inform, for the people/groups who are affected by the project but who do not participate in the effort (they are usually notified of the outcome after the final decisions are made)
Because each organization will divide roles and responsibilities differently, RACI is not a "one size fits all" model. Figure 10.1 shows an example of how you can document the way you would like roles and responsibilities to work, but the specifics will vary for your organization.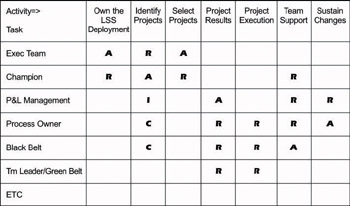 Figure 10.1: RACI chart used to define responsibilities
There are a number of key decisions you'll face as you complete a RACI chart. One of them will be determining the balance of power between Black Belts and teams. Black Belts are put in a delicate situation: On the one hand, they have a lot of knowledge that teams and line management can use to make the project a success. On the other hand, if they impose their knowledge on those they are helping, they're sending the message that Lean Six Sigma means "do it my way." As a rule, Black Belts should be positioned in the role of support staff, not decision-makers, because they are not "experts" in nor do they have any ongoing responsibility for the work.
Communicate, communicate, communicate
The cumulative result of different projects focused on cardiac bypass graft surgery at Stanford Hospital and Clinics was that patients could be discharged much sooner and often experienced fewer complications.

But the hospital team soon discovered they had ignored a vital link in patient care: The cardiologists who referred the patients would tell them, "You need a coronary bypass graft. You're going to be in the hospital about nine days." So the patient would go through the surgery and four days later be told they were being sent home. While people aren't typically upset at being released early from the hospital, these patients—expecting a nine day hospital stay—were convinced it was all a cost cutting measure and that they hadn't really gotten their full measure of care. They were also concerned because their family members weren't prepared to take them home at day 4. And that's how Stanford discovered that part of their control plan had to be communicating with anyone who dealt with patients.
This story from Stanford is just one example of why communication is a must-do for managers. Here's another: One reviewer of this book told us confidentially that his company had been involved in Lean Six Sigma for two years. Though he had received some introductory training, no one had ever really explained what was going on and why. Having now read this book, he could understand more about what his company was doing, and he had ideas for using some of the concepts in his own work. He even recalled an incident where a Black Belt had come to him with a question that our reviewer interpreted as a criticism, only to realize now that the Black Belt's intention was quite different.
The managers and others leading a Lean Six Sigma effort face a lot of competing pressures. They have to select and launch projects, make sure training is set up and delivered, provide support to people working on projects, and on and on. But even so, they need to factor in what's going on with the people NOT directly involved in the efforts. They need to put time into creating a web of communication with all parts of the organization:
With bosses, to make sure everyone understands corporate priorities. Communication with corporate leaders can also be vital in helping to overcome roadblocks or resolve conflicts that may arise between departments.
With project team members, to make sure they are clear on the purpose, goals, boundaries, and expectations for their project. The manager should also invite communication from the team, so they will feel comfortable asking questions, pushing for clarity, and so on.
To and from staff (and the rest of the organization). In general, the more that employees at all levels are aware of what's going on and why, the more likely they will be to support Lean Six Sigma efforts either directly or indirectly.
Support education and training
Lean Six Sigma isn't yet a course in most universities or colleges, let alone high schools. So most people in the workforce—including managers like you—will need to be trained and educated. Managers' responsibilities are to…
Educate themselves. If you want to have role models, try watching what CEOs like Lou Giuliano of ITT Industries and Vance Coffman of Lockheed Martin are doing. Both have participated in their organizations' executive-level training in Lean Six Sigma. You don't have to be a Black Belt—though Graham Richard, the Mayor of Fort Wayne, Indiana, is one!—but you should know enough about Lean Six Sigma so you can ask intelligent questions and guide those involved in projects.
Support the education of their staff.
Conclusion
Lean Six Sigma is a discipline that has learned from past mistakes. And one of the mistakes made by previous improvement methodologies was to ignore management support. Initially, a lot of managers find themselves thinking that Lean Six Sigma efforts are somehow "stealing resources" that they would rather devote to the "real work." But once they see the kinds of rapid and sustainable gains earned when well-trained people work on high- priority projects (linked to the managers' business goals), they quickly become enthusiastic supporters of training and education.
In Lean Six Sigma companies, this focus on systems and processes begins at the top. For example, when Lou Giuliano, the CEO of ITT Industries, goes into one of his business units, his first questions for the managers are about what they are doing with their Lean Six Sigma projects—because he knows that it's through these efforts that the company will be able to meet its aggressive goals. This clearly focuses management on process improvement.