In BW, InfoSources and InfoPackages are organized using a tree structure called application components. The application components are analogous to the InfoAreas for InfoCubes. Next, we create an application component.
Work Instructions
Step 1. Select InfoSources under Modelling in the left panel. In the right panel, right-click InfoSources and select Create application component….
SCREEN 3.5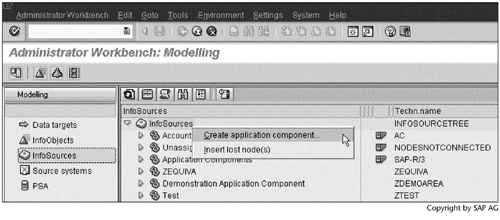 Step 2. Enter a name and a description for the application component, and then click

to continue.
SCREEN 3.6

Result
The application component has been created, as shown in Screen 3.7.
Note
BW adds a prefix of "Z" to the technical names of application components, unlike the naming system used for other BW objects.