In Chapter 5, we learned that BEx Browser is a workbook organizer. To display query results, we use the BEx Analyzer. With Profile Generator, BEx Browser can truly serve as an information center for organizing all kinds of information resources in one place. The following procedure shows how to access a Web site and run an R/3 transaction from BEx Browser.
Work Instructions
Step 1. Open the role R_RUN_QUERIES that was created in Section 6.1. Click the Menu tab.
SCREEN 6.43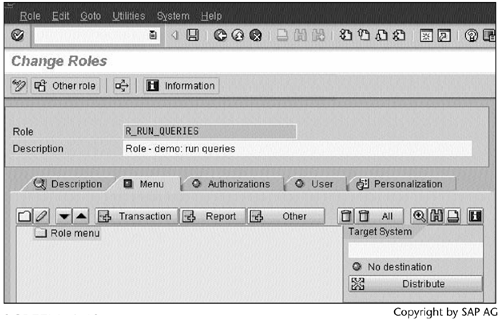 Step 2. Click

to create a new folder under Role menu.
SCREEN 6.44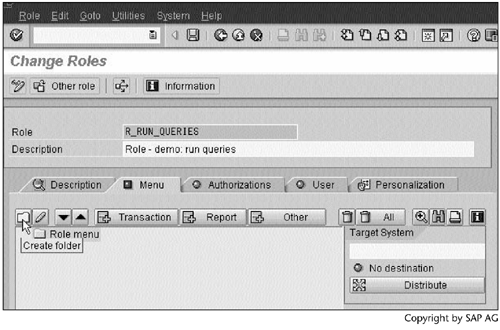 Step 3. Enter a folder name, and then click

to continue.
SCREEN 6.45

Step 4. Repeat Steps 2 and 3 to create two more folders. The names of the new folders are shown in Screen 6.46.

To add a Web address to a folder, select the Web Sites folder, and then click

.
SCREEN 6.46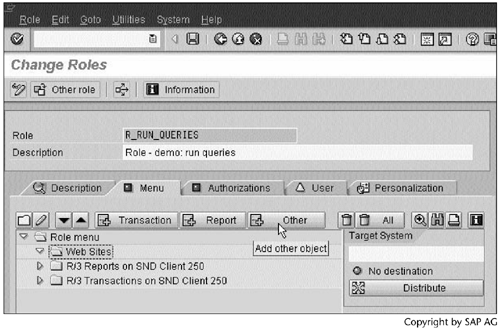 Step 5. Select the option Web address or file, and then click

to continue.
SCREEN 6.47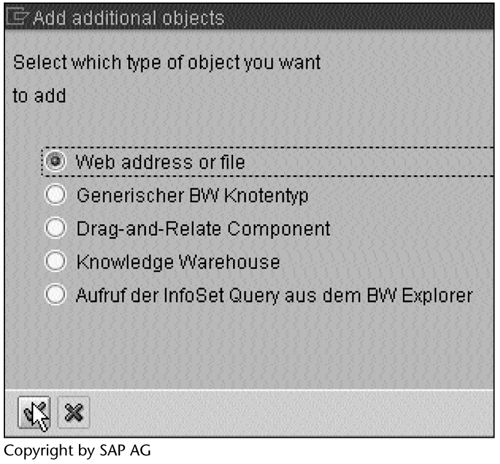 Step 6. Enter your text and a Web address beginning with http://, and then click

to continue.
SCREEN 6.48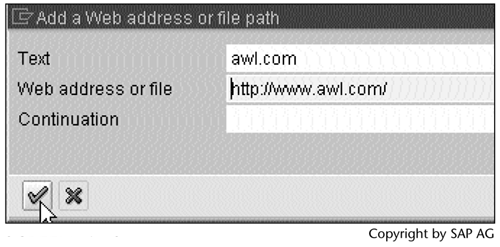 Step 7. To define an R/3 transaction that we can launch from BEx Browser, select a folder, and then click
to add the transaction code.
SCREEN 6.49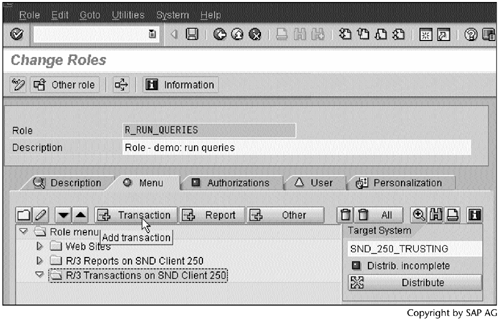 Note
To run the R/3 transaction, we need to provide an RFC (Remote Function Call) destination in the Target System field. This RFC destination defines the R/3 system as a trusting system. That is, the R/3 system trusts the BW system, and selected BW users can run certain transactions or programs in the R/3 system without providing passwords.
Step 8. Enter a transaction code, and then click

.
SCREEN 6.50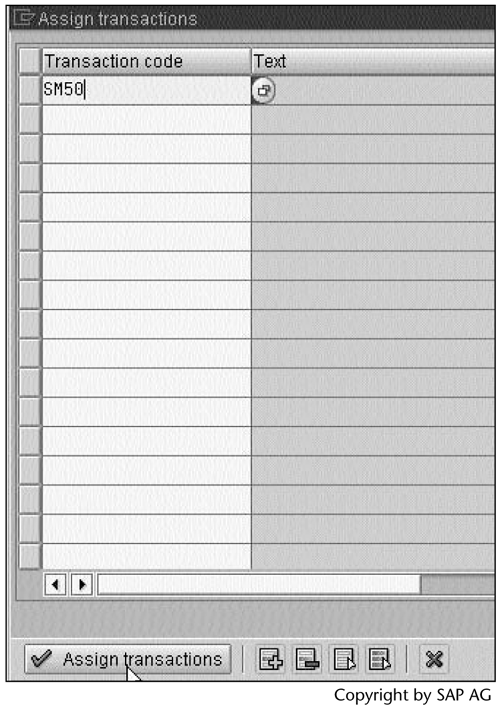 Step 9. Besides transactions, we can include R/3 reports. To do so, select a folder, and then click

.
SCREEN 6.51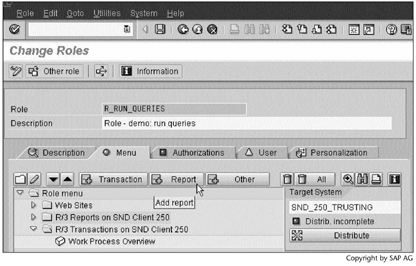 Step 10. The pop-up window shows the type of reports we can include. In this example, we do not include any reports. Click

to cancel the operation and go back to the previous screen.
SCREEN 6.52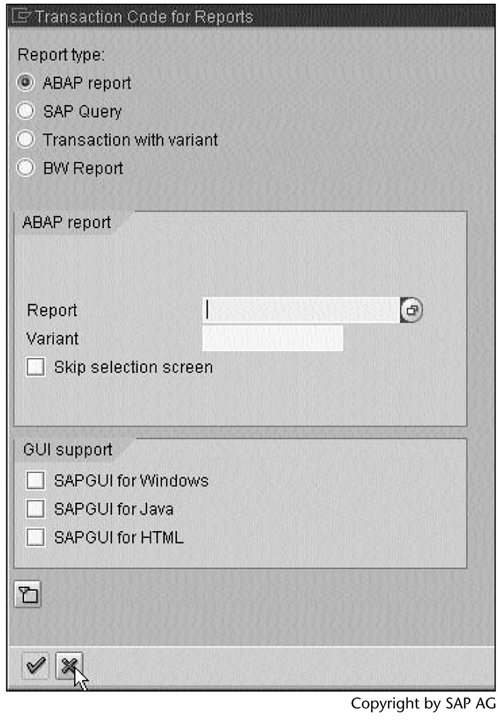 Step 11. Click

to update the user master data, and notice that all of the tab status lights are now green.
SCREEN 6.53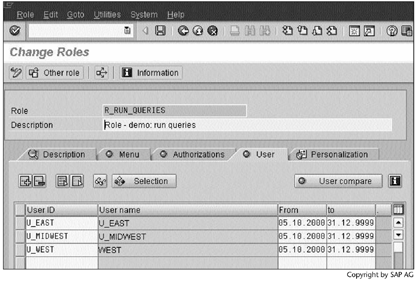 Result
Users with the R_RUN_QUERIES role can run the R/3 transaction SM50 and access the Web site www.awl.com.
Open BEx Browser and log on as U_EAST, then click folder Role demo: run queries in the left panel. You will see Screen 6.54.
SCREEN 6.54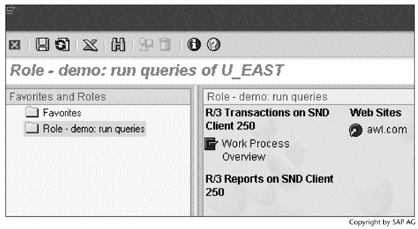 Double-click the Work Process Overview icon. The BEx Browser opens an R/3 session. The session displays the result of transaction SM50 (Screen 6.55).
SCREEN 6.55

Double-click the awl.com icon, and BEx Browser opens the www.awl.com Web page using the default Web browser, Internet Explorer (Screen 6.56).
SCREEN 6.56