A BW system can accept data from all kinds of source systems, such as the following:
R/3 systems
BW systems
Flat files
External systems through third-party ETTL tools
The following procedure shows how to create a flat file source system. Chapter 10, Business Content, describes how to create an R/3 source system.
Work Instructions
Step 1. Select Source systems under Modelling in the left panel. In the right panel, right-click Source systems and select Create….
SCREEN 3.1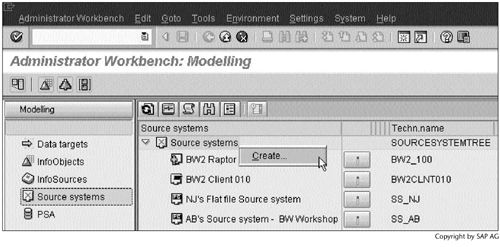 Step 2. Select the FileSystem, manual meta data, data using file inte option, and then click

to continue.
SCREEN 3.2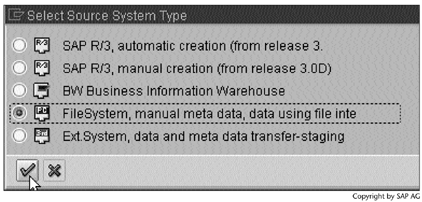 Step 3. Enter a name and a description for the source system, and then click

to create the source system.
SCREEN 3.3

Result
You have created the source system. A status message Source system SS_DEMOFF creation successful finished will appear at the bottom of Screen 3.4.
SCREEN 3.4