Before we check the loaded characteristic data, let's confirm that the load operation was successful.
Work Instructions
Step 1. Click

to view the status of the data load. It leads us to BW Monitor.
SCREEN 3.22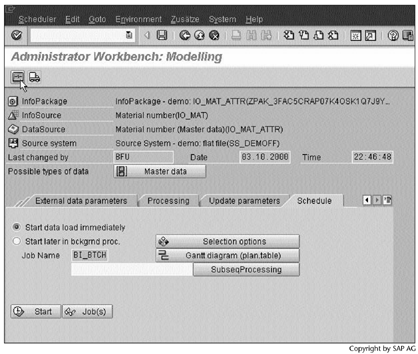 Step 2. Click

to view the status of all data loads triggered by this Info-Package.
SCREEN 3.23

Step 3. Green lights

in the left panel indicate that the data have been loaded successfully.
SCREEN 3.24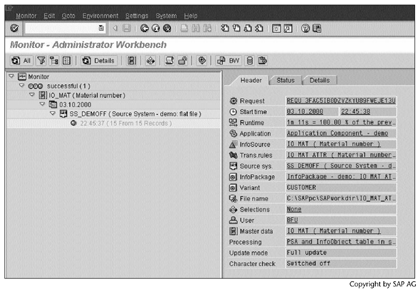 Result
The data are now in IO_MAT. Next, we will display the IO_MAT contents to verify that the data have been loaded correctly.
Work Instructions
The loaded characteristic data can be displayed in many ways. The next set of steps describes one of them.
Step 1. Right-click the characteristic Material number, and then select Maintain master data.
Note
The two

under Material number indicate the InfoPackages we created in Section 3.4.
SCREEN 3.25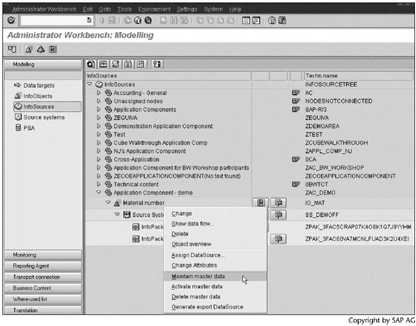 Step 2. Click

to display the contents.
SCREEN 3.26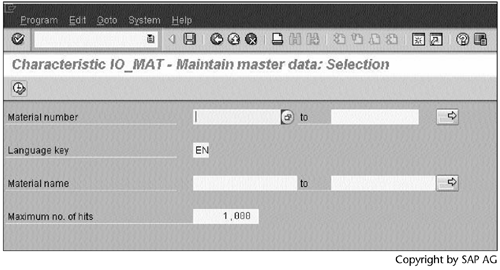 Note
To see only some of the data in IO_MAT, we can use the text fields in this screen to specify selection conditions. For example, the selection conditions in this screen specify that a maximum of 1,000 entries with texts in English will be displayed.
Result
The loaded data – both master data and texts – are displayed in Screen 3.27; they are correct.
SCREEN 3.27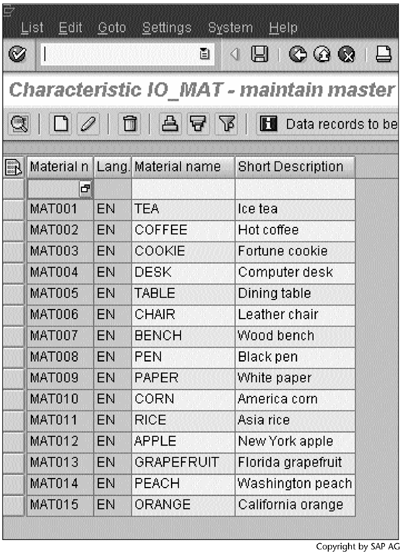 Chapter 4 discusses how to check data quality in an InfoCube.