Before we can create an InfoCube, we must have InfoObjects. Before we can create InfoObjects, however, we must have InfoObject Catalogs. Because characteristics and key figures are different types of objects, we organize them within their own separate folders, which are called InfoObject Catalogs. Like InfoCubes, InfoObject Catalogs are listed under InfoAreas.
Having created an InfoArea in Section 2.1, let's now create InfoObject Catalogs to hold characteristics and key figures.
Work Instructions
Step 1. Click InfoObjects under Modelling in the left panel. In the right panel, right-click InfoArea demo, and select Create InfoObject catalog….
SCREEN 2.4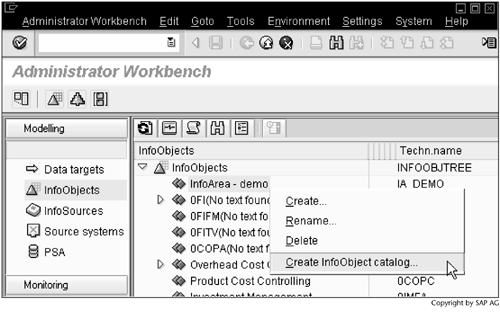 Step 2. Enter a name and a description for the InfoObject Catalog, select the option Char., and then click

to create the InfoObject Catalog.
SCREEN 2.5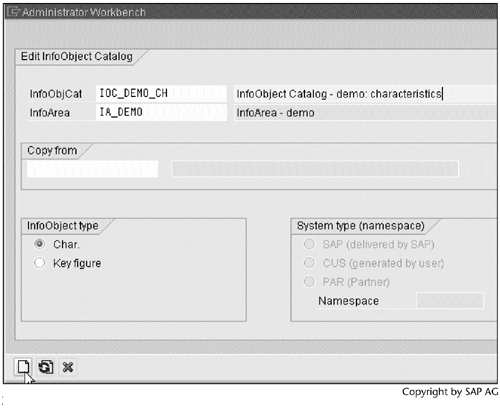 Step 3. In the new window, click

to check the Info Object Catalog. If it is valid, click

to activate the InfoObject Catalog. Once the activation process is finished, the status message InfoObject catalog IOC_DEMO_CH activated appears at the bottom of the screen.
SCREEN 2.6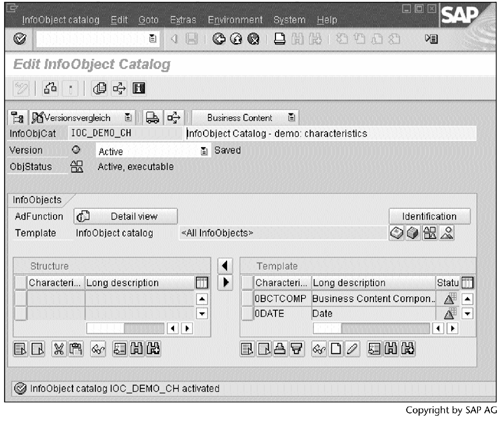 Result
Click

to return to the previous screen. The newly created InfoObject Catalog will be displayed, as shown in Screen 2.8.
Following the same procedure, we create an InfoObject Catalog to hold key figures. This time, make sure that the option Key figure is selected (Screen 2.7).
SCREEN 2.7