Next, we start to create the key figures.
Work Instructions
Step 1. Right-click InfoObject Catalog demo: key figures, and then select Create InfoObject.
SCREEN 2.18
Step 2. Enter a name and a description, and then click

to continue.
SCREEN 2.19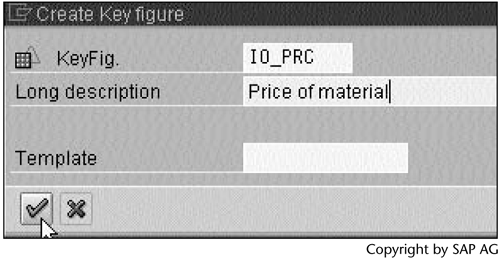 Step 3. Select Amount in the block Type/data type, select USD as the Fixed currency in the block Currency/unit of measure, and then click

to check the key figure. If it is valid, click

to activate the key figure.
SCREEN 2.20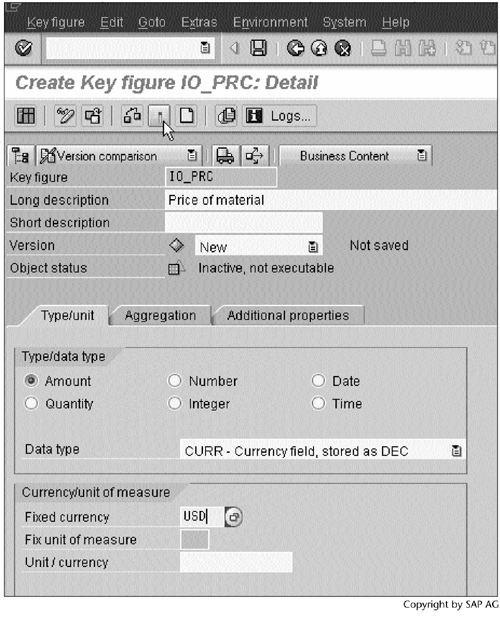 Result
You have created the key figure IO_PRC. A status message All InfoObject(s) activated will appear at the bottom of Screen 2.20.
Repeat the preceding steps to create other key figures listed in Table 2.2.
Table 2.2. KEY FIGURES

Key Figure Name and Description
Type/Data Type
Currency/Unit of Measure

IO_PRC

Price of material

Amount
Fixed currency: USD

IO_QUAN

Sales quantity

Quantity
Unit/currency: 0UNIT

IO_REV

Sales revenue

Amount
Fixed currency: USD
From Administrator Workbench, we can verify that the key figures in Table 2.2 have been created (Screen 2.21) by clicking InfoArea demo, and then clicking InfoObject Catalog demo: key figures.
SCREEN 2.21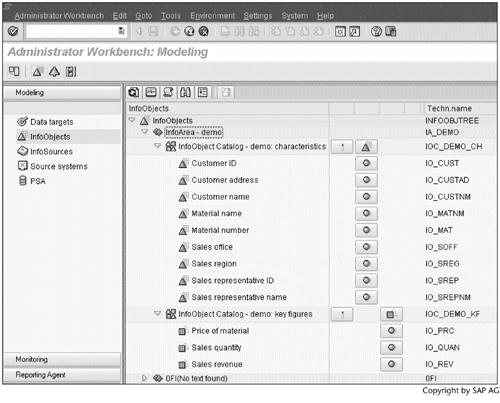 Having created the necessary InfoObjects, we now continue to create the InfoCube.