Before creating an InfoPackage to load the transaction data, we must define rules for the InfoCube IC_DEMBC that determine how data will be updated. In BW, these rules are called update rules.
Work Instructions
Step 1. Select Data targets under Modelling in the left panel, right-click InfoCube demo: Basic Cube, and select Create update rules in the right panel.
SCREEN 3.63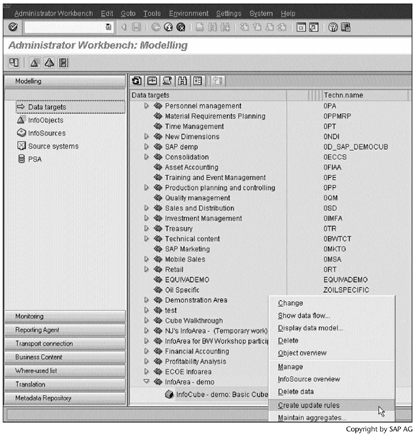 Step 2. In the Data source block, select the option InfoSource, enter the newly created IS_DEMOBC, and then click

to move to the next screen.
SCREEN 3.64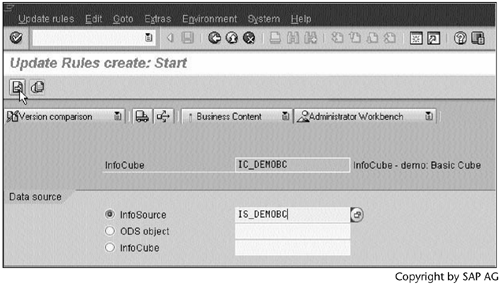 Step 3. Accept the default update rules. Click

to check the update rules. If they are valid, click

to activate them.
SCREEN 3.65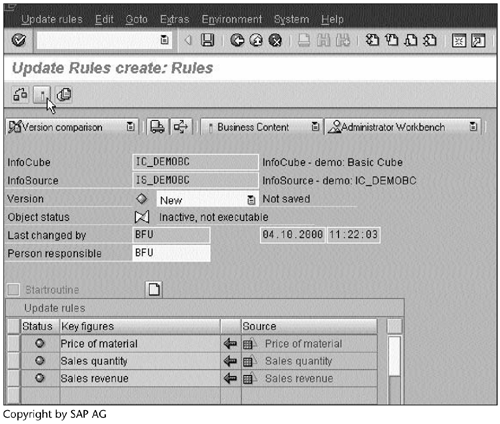 Note
Section 9.2, "Preparing to Load Data into the ODS Object, Then into an InfoCube," describes how to use ABAP to define an update rule.
Result
You have created the update rules. A status message Update rules were successfully activated will appear at the bottom of Screen 3.65.
Note
BW release 3.0A allows you to create update rules for a characteristic's master data and text as well.