In this chapter, we examined the basic features of BEx. We also learned how to create queries and workbooks using BEx Analyzer and how to access workbooks from BEx Browser. Figure 5.1 illustrates this process.
Figure 5.1. QUERY AND WORKBOOK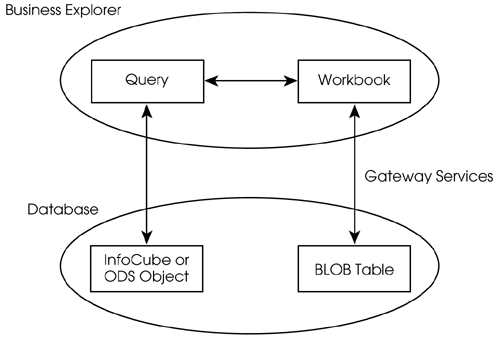 In this chapter, we also demonstrated how to create and use variables.
Key Terms
| Term | Description |
| --- | --- |
| Query | A BW query is a selection of characteristics and key figures for the analysis of the data in an InfoCube. A query refers to only one InfoCube, and its result is presented in a BEx Excel worksheet. The maximum number of characters allowed for the technical name is 30. |
| Workbook | A BW workbook is an Excel file with a BEx query result saved in BDS. BW assigns a 25-digit ID to each workbook. Users only need to name a workbook's title. |
| Drill-down | Drill-down is a user navigation step intended to obtain further detailed information. |
| Free characteristic | A free characteristic is a characteristic in a query used for drill-downs. It is not displayed in the initial result of a query run. |
| Variable | A variable is a query parameter that gets its value from user input or takes a default value set by the variable creator. |
For Further Information
• Book: SAP BW Reporting Made Easy 2.0B/2.1C, by SAP Labs, Inc., Simplification Group. Johnson Printing Service, 2001. ISBN: 1-893570-66-5.
This book demonstrates the use of several additional BEx features:
Filters
You use filters to restrict characteristics to single values, value intervals, hierarchy nodes, or variables.
Restricted Key Figures
Similar to the filters on characteristics, restricted key figures are key figures with restricted values.
Calculated Key Figures
Key figures can be calculated using a formula. For example, we can implement the Figure 1.1 formula to obtain the sales revenue.
Next…
We will create authorization profiles to manage the access to the InfoCube data. In addition, we will examine some other features of BEx Browser.