Like other software development tools, the Designer client is divided into a series of development sections called panes. These panes are used to design, configure, and program applications. Depending on the object being edited, there can be up to five primary design panes. They include the following:
Design pane
Object pane
Programmer's pane
Work pane
Action pane
It's important to understand the relationship between the development panes and design elements. These development panes are selectively displayed based on the design element being edited.
For example, all five panes are available when editing a form. Fewer development panes are presented when editing an agent or view. We'll talk more about the design elements in the next chapter. In the meantime, understand that the panes displayed will vary based on the design element. In Figure 3.1, you'll notice that all five development panes are displayed.
Figure 3.1. Development panes of the Domino Designer client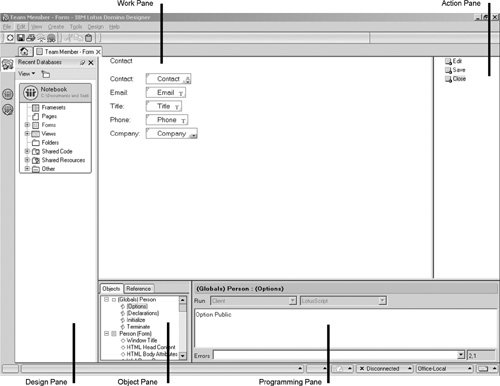 Tip
To change the size of the pane, hold down the left mouse button while adjusting the dividing line that separates the design sections.