This section describes how to customize the tab order for fields on a form. By default, the tab order for a form is left-to-right, top-to-bottom with the default cursor position in the first editable field on the form. However, this order can be changed such that the field tab sequence is customized to the form.
How It Works
The tab order is set by assigning a unique tab number to each field (see Figure 17.22). The tab sequence number is assigned in the Field properties dialog for each field.
Figure 17.22. Tab position property for a field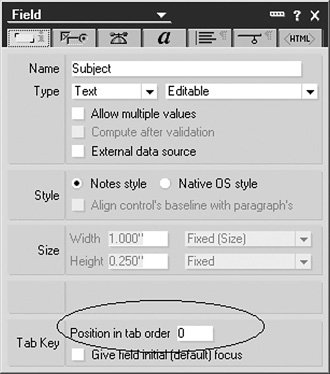 Note
To set a default starting field on the form, select the Design > Field Properties menu options and enable the Give field initial (default) focus option at the bottom of the dialog box.
Implementation
To implement this technique, complete the following steps.
| | |
| --- | --- |
| Step 1. | Open the form and click on the field to be designated as the first tab stop. |
| Step 2. | Select the Design > Field Properties menu options to display the properties dialog and specify a numerical value in the Position in tab order field (located at the bottom of the dialog). With the properties dialog still open, click the next field and set its tab sequence number. Repeat this process for each field on the form. |
---

Lotus Notes Developers Toolbox: Tips for Rapid and Successful Deployment
ISBN: 0132214482
EAN: 2147483647
Year: N/A
Pages: 293
---