One of the robust features included with the Lotus Notes client is the ability to copy documents from a view and automatically create formatted tables that include document links. Using this feature, you can create and email documents quickly and easily.
How It Works
This built-in feature automatically creates a table in a document. The table mimics the column headers from the view and includes document links for reference purposes. When using this feature, always select documents from a server database as opposed to a local database. Otherwise, the table will include document links to a local database that most likely will not be accessible. If you do not need or want the document links included in the table, simply delete the column after the table is generated.
Implementation
The following instructions illustrate how to create a database table in a document or email.
Step 1.

Open a database and select one or more documents (see Figure 18.9).



Figure 18.9. Selecting documents from a view




Step 2.

Click the right mouse button and select the Copy Selected as Table menu option (see Figure 18.10).



Figure 18.10. Copy Selected as Table popup menu option




Step 3.

Create a new mail memo or other Lotus Notes document (see Figure 18.11). Move the cursor to any Rich Text field, such as the body of an email, and select the Edit > Paste menu options to create the table.


Figure 18.11. Newly created table with document links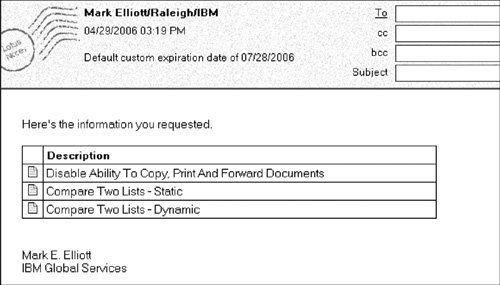 ---

Lotus Notes Developers Toolbox: Tips for Rapid and Successful Deployment
ISBN: 0132214482
EAN: 2147483647
Year: N/A
Pages: 293
---