Before installing or trying any of the sample Lotus Notes database applications, we recommend that you thoroughly review the "About the Developers Toolbox" section in this chapter as well as the corresponding chapter information. Follow these steps to install one of the Lotus Notes database applications:
Step 1.

Open the database. Locate the developers toolbox folder and double-click on the desired database.



Step 2.

Create a cross certificate. The first time you open a database, you will be prompted to create a cross certificate. This is a digital certificate that enables Lotus Notes applications created in one domain to be accessed from another domain. Click Yes when a message similar to the one in Figure A.12 is displayed.





Figure A.12. Example of the "Create Cross Certificate" message


After clicking

Yes

, a digital certificate will be added to your Lotus Notes address book in the "Certificates" section and can be deleted at any time without impacting your Lotus Notes client. See Chapter 19, "Security," for additional information relating to cross certification.



Step 3.

When the database is open, you can create a new copy of the database by selecting the File > Database > New Copy menu options. This will enable you to play with or modify the design of the database. A dialog box similar to Figure A.13 will display.



Figure A.13. Example of the "New Copy" dialog for copying databases




Step 4.

Optionally, set the server location, database title, and filename values. If you prefer to create the database on a server, change the Server value from Local to a valid Domino server. Click OK to create a new copy of the database.


Note
Its important to understand that the default access level for the database is set to "Manager." This means that anyone may add or delete documents. It also allows anyone with access to the Domino Designer client to modify the database design. Be sure to update the ACL settings to control who can add, delete, and modify aspects of the database. See Chapter 19 for additional information regarding the ACL.
Note
You may receive "Execution Security Alert" statements the first time you run some of the database applications (see Figure A.14). When received, you can review who "signed" the database and the "action" to be performed. Select the Start trusting the signer to execute this action option and OK to continue.
Figure A.14. Example Execution Security Alert message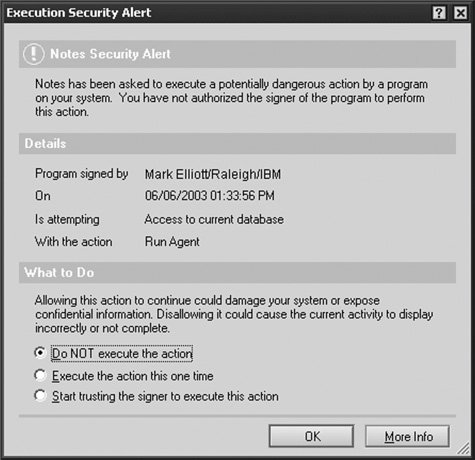 ---

Lotus Notes Developers Toolbox: Tips for Rapid and Successful Deployment
ISBN: 0132214482
EAN: 2147483647
Year: N/A
Pages: 293
---