In some cases, you may want to prompt the user to confirm that he or she really wants to continue before performing an action. For example, say the application includes a button to change the status of the document or to send an email. This routine illustrates how to prompt the user with a message such as "Are you sure?" before continuing with the transaction.
How It Works
The @Prompt function can be used to return a trUE or FALSE value. When combined with the @IF statement, you can determine what action (if any) should be taken based on the user's response to the question.
Implementation
To implement this solution, create an action button on a form, view, or page. Insert the following code. Replace the @Prompt statements with commands to be issued based on the Yes or No response (see Figure 14.19). For example, if the user selects Yes, issue the @MailSend command.

result := @Prompt([YesNo]; "Continue?"; "Do you want to continue?");
@If (result = @True;
 @Prompt([Ok]; "Result"; "You selected YES.");
 @Prompt([Ok]; "Result"; "You selected NO."));

Figure 14.19. Example "Do you want to continue?" prompt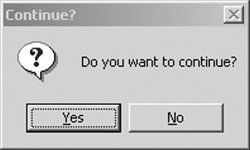 Note
A similar implementation can also be achieved using LotusScript. Refer to Chapter 13 for additional information pertaining to this subject.