There are four methods to launch the Designer client.
Windows Icon The application can be launched via the icon located on the Microsoft Windows Desktop. Double-click the icon (see Figure 2.7) to start the Domino Designer client. If the Lotus Notes client is not already running, you will be prompted to enter your user ID and password.

Figure 2.7. Domino Designer Desktop icon

Notes Toolbar To launch the Designer client from the Notes toolbar, simply click the icon (see Figure 2.8). The triangle, located on the icon, signifies the Designer client application. If the icon is not displayed, then either the Designer client has not been installed or the icon has been removed from the toolbar.

Figure 2.8. Lotus Notes client left-side menu bar icon

Start Menu Designer can be started from the Microsoft Windows operating system. Select the Start > Programs > Lotus Applications > Lotus Domino Designer menu options to start the client (see Figure 2.9).

Figure 2.9. Domino Designer access from the Windows Start menu

Notes Database The Designer client can be launched from the Notes workspace by right-clicking on the application icon and selecting Open In Designer from the popup menu (see Figure 2.10). You'll probably find this option to be the preferred method for opening an application in the Designer client. However, this option will not display if you do not have "Designer" or "Manager" level access to the database. See Chapter 19, "Security," for additional information.

Figure 2.10. Starting Domino Designer from the Desktop popup menu
If you launch the Designer client using Option 1, 2, or 3, you should see a display similar to Figure 2.11. Here you can create a new database, open an existing database, or display help information for the Designer client.
Figure 2.11. Domino Designer welcome page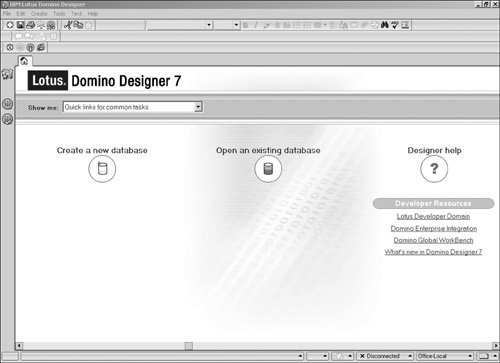 However, if you elected to open an existing database using Option 4, then design elements for the database will be displayed (see Figure 2.12) instead of the default start-up window.
Figure 2.12. Domino Designer workspace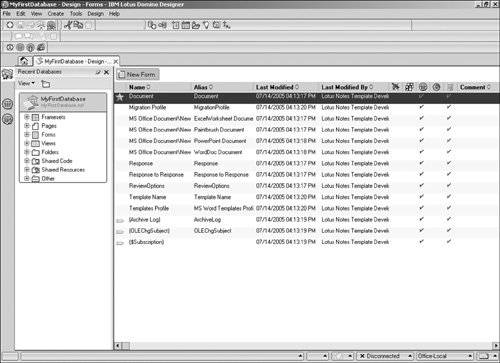 Using the Designer Client for the First Time
Looking back, we've discussed some of the products that encompass the Lotus Domino family and have successfully installed the Domino Designer client. Next we'll create a database and begin to explore the Designer client interface. Although Chapter 3, "Navigating the Domino Designer Workspace," provides an in-depth explanation of the navigation elements, we'll complete this chapter by gaining some hands-on experience with creating a simple database and looking at the design elements.

A.2.2
Creating My First Notes Database