Use your phone/PDA as a remote control for presentations or media players, and create new remote functions with AppleScript.
The Salling Clicker is one of the best applications available for Bluetooth. It turns a whole range of Bluetooth-capable mobile phones and PDAs into fullcolor, programmable remotes for Mac OS X. You can launch applications, control presentations in PowerPoint or Keynote, and use it as a general-purpose mouse. It plays media files in iTunes, DVD Player, and VideoLan Client and now supports the EyeTV and AlchemyTV digital video recorders (DVRs).
The software works with 21 models of Sony Ericsson phones, 12 Nokia phones, a couple models from Motorola, and it supports almost all PalmOS 4 or 5 devices with PalmSource Bluetooth. A complete list of supported devices is listed in the FAQ at http://homepage.mac.com/jonassalling/Shareware/Clicker/faq.html#supported_devices.
1.9.1. Installing Clicker
You can download the software directly from the author's web site at http://homepage.mac.com/jonassalling/Shareware/Clicker/. The application is shareware and costs $19.95. A trial version, limited to 30 clicks from your remote, is also available.
The download package comes with a basic installer, which will install itself as a new control panel and automatically launch. In order for you to use Salling Clicker, your phone or PDA must be paired with your Mac. If you haven't done this already, run the Bluetooth Setup Assistant, found in /Applications/Utilities.
After software installation, Salling Clicker appears as a new item in System Preferences. When you open the new preferences item, a small circular icon will also appear in the menu bar, as shown in Figure 1-22. Click Select Phone, and ensure that your phone is on and somewhere near your computer and that you have Bluetooth enabled on your Mac.
Figure 1-22. The Clicker's menu bar icon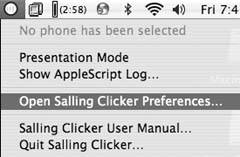 Select your phone from the list and save the changes. You can now use your phone to steer Mac OS X, as well as to publish custom menus to the phone itself. Under the Clicker Items tab, you can create custom menus of whatever you like and publish them to your phone. Control Mac OS X by navigating these menus on the phone and selecting what you want to do, such as launch an app or skip to the next track in iTunes. Some phones (such as the Sony Ericcson T630) even allow you to use the phone as a mouse, making it possible to control any application. Just select System
images/U2192.jpg border=0> Control Mouse, and you can use the tiny control stick on the phone as a pointer.
If you have a Symbian-based smartphone, such as any of the Nokia Series 60 phones, or a Sony Ericsson P900, there's an additional installation step you'll need to take to get Salling Clicker working. In the downloaded Salling Clicker package, locate and launch the installer program for your particular phone. This will activate Bluetooth File Exchange to transfer some necessary Salling Clicker files to your phone. Depending on your phone and its particular security settings, you might either need to enable file transfers, or click Yes on the phone to allow the transfer. You'll also see a security warning on the smartphone, which is normal, because the Clicker software hasn't been approved by the phone manufacturer.
Lastly, if you have a device that runs PalmOS Version 4 or 5, you also need to install a small software package on your PDA. Locate the PDA installation for your Palm in the downloaded Salling Clicker package. You can choose to install it through Palm HotSync or Bluetooth File Exchange.
1.9.2. Connecting to Clicker
Now your smartphone or PDA is ready to connect to Salling Clicker, just as you connected a regular phone in the previous section. You'll need to open the Clicker application on the PDA or smartphone and select the Connect option. Also, make sure your Mac Bluetooth is configured for Discovery; otherwise, the phone will never find the Mac.
Since Bluetooth's range is limited to 30 feet or less, it is possible to signal Clicker to take action when your phone moves in and out of range. You can control this functionality by looking under the Phone Events tab, shown in Figure 1-23. For example, you might want Clicker to pause iTunes and turn on the screensaver whenever you leave your machine. The program comes with many default events, and you can click Show More to select other scripts to run at specified times.
If the built-in actions don't do everything you need, you can always create your own. The actions are just AppleScript snippets, so anything that you can do with AppleScript can be triggered with the phone. You can edit existing actions or create your own by Control-clicking in the Scripts section under the Clicker Items tab in the Clicker control panel, as shown in Figure 1-24.
Clicker comes with handy actions for remotely controlling slideshows in PowerPoint or Keynote, and since it can simulate any keystroke, it can be used with just about any other application, too. It is particularly handy when making presentations, because you are virtually guaranteed to have your phone with you (and it is likely to be charged). The latest version of Salling Clicker, if used with Microsoft PowerPoint 2004, will preview the title of the upcoming slide on your phone. You're guaranteed not to lose a beat when you know what the next slide is!
Figure 1-23. Assigning any action you like to the Proximity Sensor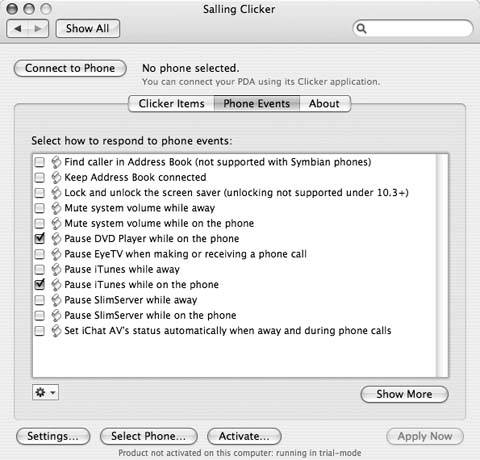 1.9.3. Hacking the Hack
When most people think of Bluetooth, they think of voice or data applications, but Clicker is a clever app that transcends the traditional cable replacement idea. If you use Mac OS X and own any of the supported phones, smartphones, or PDAs, you will probably find all sorts of novel uses for this software. Particularly because it is easy to use and is fully scriptable, Clicker is an application that just screams "hack me!"
At the time of this writing, the author, Jon Salling, has responded to requests for support of Microsoft smartphones and PocketPC-based PDAs. Check back on the product web page for updates to the program, because this will be a major addition to device support for Salling Clicker.
Figure 1-24. Writing your own Clicker actions