We often deal with monotonically nondecreasing functions, such as running-time functions for algorithms. It is easy to state an upper limit on a sum of applications of such a function.

Figure C-4 shows why this is true.
Figure C-4. Since f(n)

i) for any i < n, the sum falls within an f(n) x n rectangle.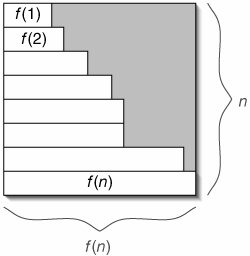 Part I: Object-Oriented Programming
Encapsulation
Polymorphism
Inheritance
Part II: Linear Structures
Stacks and Queues
Array-Based Structures
Linked Structures
Part III: Algorithms
Analysis of Algorithms
Searching and Sorting
Recursion
Part IV: Trees and Sets
Trees
Sets
Part V: Advanced Topics
Advanced Linear Structures
Strings
Advanced Trees
Graphs
Memory Management
Out to the Disk
Part VI: Appendices
A. Review of Java
B. Unified Modeling Language
C. Summation Formulae
D. Further Reading
Index