This section explains how to manage the different system image files on the security Cisco ASA.
Software Installation
ASDM can upload either an ASA or an ASDM image to the Cisco ASA flash using the HTTPS protocol. This is done by clicking Tools > Upload image from Local PC on the toolbar. Select whether you want to upload an ASDM or an ASA image, and then specify the path to the image file on the local drive. For ease of use, you can also click Browse Local and select the file by browsing the local hard-drive file structure. Specify the destination location on the Cisco ASA flash and then click Upload Image to initiate the file transfer process. In Figure 18-22, an ASA image, asa701.bin, is being uploaded from the local drive C: empASAasa701.bin to disk0:/asa701.bin on Cisco ASA.
Figure 18-22. Image Upload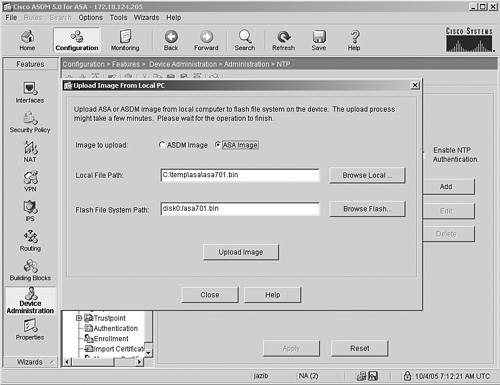 If the system Flash contains more than one system image, the security Cisco ASA boots off from the first image it finds in the flash. If the image you want to boot is not the first one on the disk, you should set the boot order to load the desired binary image file. It is set up under Configuration > Features > Device Administration > Administration > Boot Image/Configuration, as shown in Figure 18-23. The system image asa701.bin is set up as the first image the security Cisco ASA will boot from.
Figure 18-23. Setting the Boot Order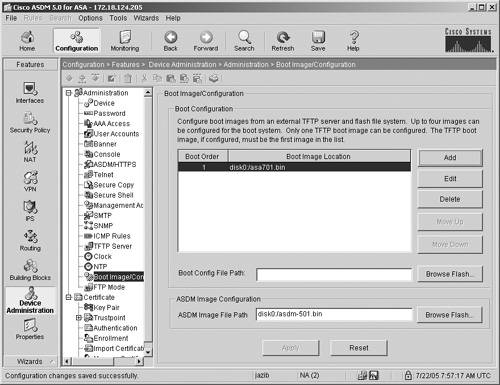 File Management
ASDM provides an easy interface to manage the files on the security Cisco ASA. The File Management option under Tools is used to manage the system flash structure. Functions such as copy, rename and deletion of system files are supported.
Similar to the image upgrade option, the security Cisco ASA can also upload system and nonsystem files from an external server to the flash and vice versa under Tools > File Transfer. This is helpful in transferring syslog and other system-generated files from the security Cisco ASA.