ASDM is loaded from Cisco ASA and is used to launch the IPS Device Management Console to configure, monitor, and manage the AIP-SSM.
To access the AIP-SSM IPS Device Management Console, first launch ASDM and connect to Cisco ASA from your local workstation. When you first install the AIP-SSM into the Cisco ASA appliance, you must configure the initial settings using the setup command via the CLI.
Note
The initialization and initial setup of the AIP-SSM is covered in Chapter 14, "Configuring and Troubleshooting Cisco IPS Software via CLI."
You can use the setup command to configure basic settings such as the following:
The AIP-SSM host name
IP addressing
AIP-SSM web server port
Access control lists
Time settings
After you run the setup command and set up these parameters, you can connect to the AIP-SSM via ASDM.
To configure the AIP-SSM, launch ASDM and click the IPS icon under the Configuration section, as illustrated in Figure 20-1.
Figure 20-1. Accessing IPS Configuration Window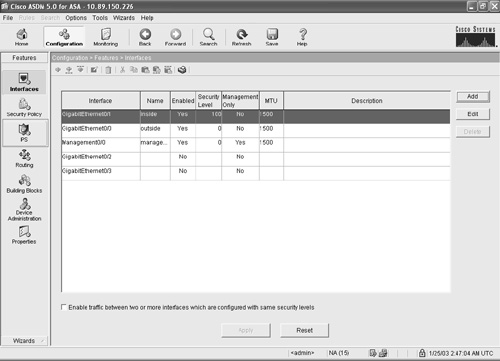 After you click the IPS icon, ASDM warns you that it will make a connection to the AIP-SSM. You can choose to connect to it via the management IP address or a different address. As shown in Figure 20-2, ASDM is making a connection to 10.89.149.226, which is the management IP address of the AIP-SSM.
Figure 20-2. ASDM Connecting to the AIP-SSM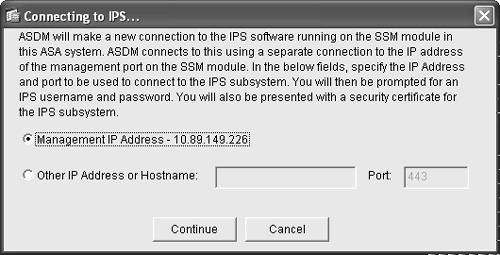 You are prompted to log in to the AIP-SSM. You can use the default user (cisco) to log in and access the configuration windows.
The following sections demonstrate how SecureMe's IPS administrator at the Los Angeles, California branch configures an AIP-SSM on a Cisco ASA 5520. Figure 20-3 shows a high-level overview of the network topology at the Los Angeles branch.
Figure 20-3. SecureMe Los Angeles Branch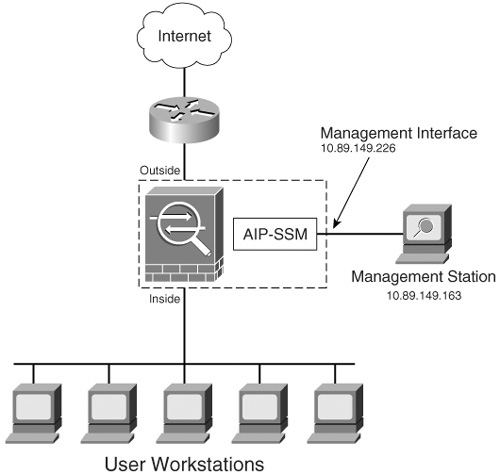 The AIP-SSM management interface is configured with the IP address 10.89.149.226. A management station (10.89.149.163) from which ASDM is launched is located in the same subnet.