IPTV is generally described as a system that delivers digital television service to a subscriber using IP over a broadband connection, often provided in conjunction with video-on-demand (VOD), Internet services, and VoIP, as part of triple-play services (a combination of voice, data, and video services over the same infrastructure). In its simplest definition, IPTV is the delivery of television content through technologies used for the World Wide Web rather than traditional formats.
Some say that incumbent telcos have developed their current interest in offering video or TV services as a result of fearfear that cable operators are beginning to encroach on their territory with residential voice services, fear that competition is eroding the number of access lines being deployed, and fear that traditional landline revenues will continue to fall even further. IPTV therefore holds great promise for telcos. But more importantly, with IPTV, telcos and cable providers alike can offer triple-play services. It is also important to note that IPTV is not just a replication of the passive cable TV viewing environment of old; instead, it offers services including interactive gaming, access to massive libraries of video content on demand, and e-commerce activities, with a view to future features such as energy management and security services.
IPTV was not possible in the dialup era, when the download speeds were far too slow to allow any type of video content to be received, let alone enjoyed. With the penetration of broadband growing daily, IPTV is becoming available to more households. The market research firm Research and Markets expects the number of global IPTV subscribers to grow from 4.3 million in 2005 to 36.8 million in 2009, at a compound annual growth rate of 72%. Europe is leading the market for subscriber numbers, while Asia and North America have fallen off slightly due to a slower-than-expected rate of fiber deployment ("Global Users Tune In to IPTV," www.vnunet.com/vnunet/news/2154560/iptv-set-rocket). Needless to say, many if not most of the world's leading telecom providers are investigating IPTV, in the search for a new revenue-generating opportunity and as a defensive measure against the ever-increasing encroachment of cable TV operators. Because IPTV relies on IP, it promises lower costs for providers and lower prices for consumerswhat appears to be a winwin situation.
IPTV supports both live TV (multicasting) and VOD (stored video). IPTV is viewed on a TV and requires a set-top box. The video content is usually in MPEG-2 TS (Transport Stream) format, delivered via IP Multicast. IPTV was specifically designed to deliver high-quality content to a traditional TV through the Internet. From the consumer's point of view, the experience with IPTV is very similar to the experience with cable or satellite.
One of the main advantages of IPTV is its two-way capability, which traditional TV distribution technologies do not have. Another benefit is its point-to-point distribution, which allows each viewer to view individual broadcasts. This functionality enables stream control (pausing, forwarding, rewinding, and so on) and a free selection of programming similar to what the Web offers. As mentioned earlier, IPTV enables providers to offer more services over the same pipe (e.g., triple-play services).
Of course there are alternatives to IPTV, encompassing traditional TV distribution technologies such as terrestrial, satellite, and cable TV. Because cable can be upgraded to two-way capability, it can also carry IPTV.
IPTV Versus Streaming Media
Streaming media is an almost identical server-side technology to IPTV, but it terminates on a PC rather than on a TV. Streaming media is still difficult to sell to broadcasters and is not a hot topic of discussion because it does not leverage the TV sets already out there. The general perspective is that if you're a television professional, computers are not really part of your world. In fact, from a broadcaster's point of view, it would be better if computers simply disappeared because they take away traditional TV viewers.
With IPTV, the network operator controls the entire pathfrom the time the content is assembled to the delivery of that content to the consumer's TV set. The operator can set the QoS and control the security. In the streaming media model, the signal is likely to traverse different providers' networks, so the network operator doesn't have the same control over bandwidth and QoS. The deployment of IPTV is greatly affected by the need for end-to-end control. IPTV does not involve a signal being sent from one end of the world to the other; it is regional or local, and IPTV is therefore being implemented by companies that own entire networks.
Because IPTV is a closed, managed network, it can deliver full-screen, high-quality video content, unlike streaming media, which is most often still relegated to small-screen and relatively low-quality video. For streaming media, network capacity is a critical issue that needs to be resolved if it is to have any hope of not only keeping up with but converging with IPTV. High-definition TV (HDTV) is setting another benchmark that streaming media might struggle with.
For telcos in particular, IPTV is laying the foundation for the future, allowing the provider to serve the customer with a bundle of offerings, as well as establishing a position in the nascent market for online video distribution. Aside from TV, there are a multitude of opportunities for future multimedia applications that involve the integration of voice, data, and video. Examples of these types of services include displaying caller ID on a TV set to being able to program a personal video recorder (PVR) remotely from a handheld device.
The IPTV Architecture
Using IPTV requires either a PC or a set-top box connected to a TV (see Figure 9.8). The primary underlying protocols used for IPTV are Internet Group Management Protocol (IGMP) version 2 for channel-change signaling for live TV and RTSP for stored video (i.e., VOD).
Figure 9.8. The IPTV architecture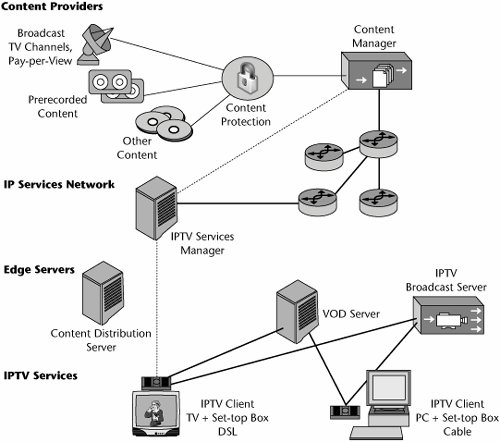 Protocols that use peer-to-peer technology to distribute live TV are just starting to emerge. Their primary advantage over traditional distribution models is that they provide a way to share data delivery workloads across connected client systems as well as the distributor's own server infrastructure, which drastically decreases the operational costs for a stream provider. Video compression formats used for IPTV include MPEG-2, MPEG-4, H.264, WMV (Windows Media Video 9 and VC-1), XviD, DivX, and Ogg Theora. (Compression techniques are discussed in Chapter 10.)