Prev
don't be afraid of buying books
Next
ACKNOWLEDGMENTS
Much of the new material in this edition results from what I've learned from those clever folk on the USENET newsgroup comp.dsp. (I could list a dozen names, but in doing so I'd make 12 friends and 500 enemies.) So I say thanks to my DSP pals on comp.dsp for teaching me so much signal processing theory.
For their patient efforts in the unpleasant task of reviewing early versions of the manuscript, I was lucky to have help from the talented Eric Jacobsen, Dr. Peter Kootsookos, Matthew Donadio, Dr. Ian Buckner, Dr. Mike Rosing, Jerry Olup, Clay S. Turner, Ray Andraka, Jim Thomas, Robert Bristow-Johnson, Julius Kusuma, and Dr. Ing. Rune Allnor. Thanks guys, I owe you.
I also thank Patty Donovan, of Pine Tree Composition, Inc., for converting the jumbled mess of papers plopped on her desk into a readable book; Production Gurus Lisa Iarkowski and Anne Garcia, of Prentice Hall, for skillfully riding herd on the publication process; and my upbeat Acquisition Editor Bernard Goodwin[

] for his generous encouragement and guidance.
[] "A publisher lives by what he feels. Authors do too, but authors are blind moles working their solitary way along their individual tunnels; the publisher is like the Pied Piper of Hamelin, piping his way along a path he wants them to follow" (Lovat Dickson).
If you're still with me this far into the preface, I end by saying I had a ball writing this book and sincerely hope you benefit from reading it. If you have any comments or suggestions regarding this material, or detect any errors no matter how trivial, please send them to me at r.lyons@ieee.org. I promise I'll reply to your E-mail.
Amazon
Prev
don't be afraid of buying books
Next
Chapter One. Discrete Sequences and Systems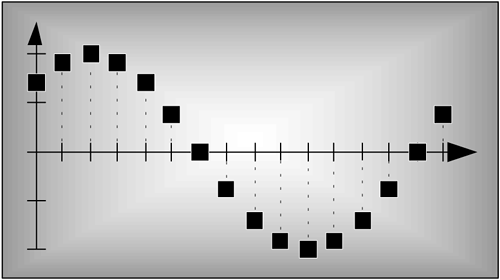 Digital signal processing has never been more prevalent or easier to perform. It wasn't that long ago when the fast Fourier transform (FFT), a topic we'll discuss in Chapter 4, was a mysterious mathematical process used only in industrial research centers and universities. Now, amazingly, the FFT is readily available to us all. It's even a built-in function provided by inexpensive spreadsheet software for home computers. The availability of more sophisticated commercial signal processing software now allows us to analyze and develop complicated signal processing applications rapidly and reliably. We can perform spectral analysis, design digital filters, develop voice recognition, data communication, and image compression processes using software that's interactive both in the way algorithms are defined and how the resulting data are graphically displayed. Since the mid-1980s the same integrated circuit technology that led to affordable home computers has produced powerful and inexpensive hardware development systems on which to implement our digital signal processing designs.[

] Regardless, though, of the ease with which these new digital signal processing development systems and software can be applied, we still need a solid foundation in understanding the basics of digital signal processing. The purpose of this book is to build that foundation.
[] During a television interview in the early 1990s, a leading computer scientist stated that had automobile technology made the same strides as the computer industry, we'd all have a car that would go a half million miles per hour and get a half million miles per gallon. The cost of that car would be so low that it would be cheaper to throw it away than pay for one day's parking in San Francisco.
In this chapter we'll set the stage for the topics we'll study throughout the remainder of this book by defining the terminology used in digital signal processing, illustrating the various ways of graphically representing discrete signals, establishing the notation used to describe sequences of data values, presenting the symbols used to depict signal processing operations, and briefly introducing the concept of a linear discrete system.
Amazon