Case Study Introduction
The case studies for this book use a fictional international company with offices in six locations, as shown in Figure 1-7. Each office has a different set of equipment and network connections to demonstrate the various technologies mentioned in this book. Every location communicates with the others over a Multiprotocol Label Switching (MPLS) network that the ISP manages. A centralized CallManager in the New York office controls phones in Miami, Boise, Shanghai, and Leeds. The Lima voice gateway router is running CME for its phones. Boise has analog phones, Shanghai has a combination of IP and analog, and the other sites have IP phones.
Figure 1-7. Complete Case Study Network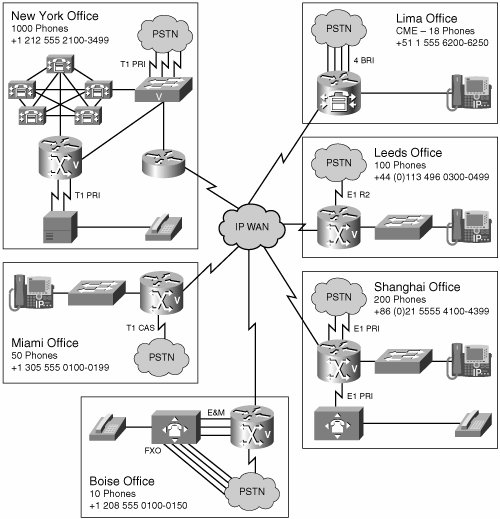 Table 1-1 lists each site and the composition of its voice network. It shows the number of IP and analog phones, the phone number range, the type of hardware, and the IP addressing scheme. You might find it helpful to refer back to this table as you read through the remaining case studies in this book.
Table 1-1. Description of Case Study Sites

Site

Number and Type of Phones

Telephone Number Range

Hardware/Connections

Cisco CallManager IP Range

Data IP Subnet

Voice IP Subnet

New York City, New York, USA

1000 IP phones

1-212-555-2100 through 3499

CallManager cluster

6500 switch with a Communication Media Module (CMM) connected to three T1 PRIs

A voice gateway router connected to a PBX via two T1 PRIs

10.1.10.10-20/24

10.1.25-49.0/24

10.1.50-75.0/24

Miami, Florida, USA

50 IP phones

1-305-555-0100 through 0199

Voice gateway router with SRST and one T1 CAS connection to the PSTN

N/A

10.10.25.0/24

10.10.50.0/24

Boise, Idaho, USA

10 analog phones

1-208-555-0100 through 0199

Voice gateway router with three E&M connections to a PBX and one T1 PRI connection to the PSTN

N/A

10.20.25.0/24

10.20.50.0/24

Shanghai, China

200 phones in a combination of IP and analog

86-21-5555-4100 through 4399

Voice gateway router with SRST, two E1 PRI links to the PSTN, and one E1 PRI connection to a PBX

N/A

10.30.25.0/24

10.30.50.0/24

Leeds, England

100 IP phones

44-0113-496-0300 through 0499

Voice gateway router with SRST and one E1 R2 connection to the PSTN

N/A

10.40.25.0/24

10.40.50.0/24

Lima, Peru

18 IP phones

51-1-555-6200 through 6299

Voice gateway router with CME and four BRI connections to the PSTN

N/A

10.50.25.0/24

10.50.50.0/24