The diagram in Figure 9.1 shows the two great tensions faced when trying to manage the people side of projects, between getting on with the project and training the project team on the one hand, and on the other between managing people systematically according to objective measures of skills and managing people by playing on emotions and other vital aspects of what makes us human rather than machines. The knowledge area of project HR management contains the tools and techniques needed to manage these tensions efficiently. People do projects, not charts, software, machines or methodologies and because of this fundamental truth any of the following can transform a perfectly doable project into failure or at best a project over time and budget:
Figure 9.1. The two great dynamics in project HR management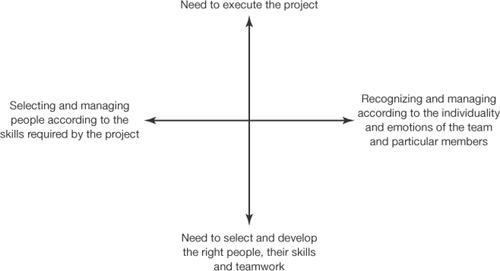 Having the wrong people

Having the right people but not having them working together sufficiently as a team

Having the right people but without having developed their skills adequately.