Feeling dizzy yet? Are you tired of twirling down the triangles to see the paint effects you're applied? It's time for more shortcuts.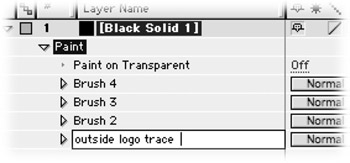 Press PP to see only the Paint, Clone, or Erase strokes.

Want to change the name of your strokes? Select the stroke and press return (enter), type a new name , press return (enter) again. It's easier to remember what "flower petal 1" refers to than "brush 14".