You can select any of the preset brushes, modify them, and save your new brushes to the library so they always appear in the Brush Tips Palette.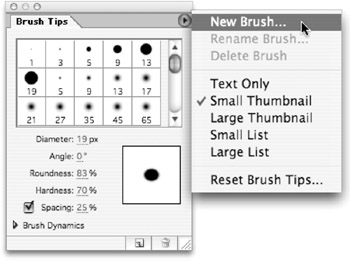 A fast way to modify a brush from the comp window is to hold the Cmd Key (Ctrl) and drag in or out with your mouse.

Cmd+Shift+Drag (Crtl+Shift+Drag) changes the size of the brush in bigger increments .

Releasing the Cmd key (Crtl) while maintaining the drag will edit the hardness of the brush.
After modifying a brush, hit the New Brush Tip Icon on the lower right part of the window or choose New Brush from the Palette Menu. To rename or delete brushes, context-click (control-click or right-click) on a brush