Not only are there ten or more properties you can animate under each stroke option, but each stroke also has it's own transform properties separate from the layer transform properties. Wow! Because each stroke is vector have no fear of scaling up a stroke.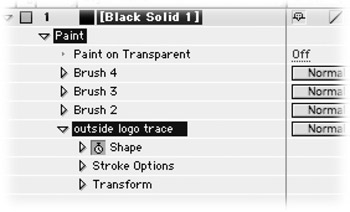 Brush strokes (including any keyframes) and individual keyframes can be copied from one layer to another and you can duplicate strokes within a layer.
You can also animate the shape of a stroke by hitting the shape stopwatch for a selected stroke and then going to a different point in time and drawing another paint stroke. (Make sure that stroke is selected after you move in time.