Oftentimes you'll want to hand out your speaker notes to those attending a speech or meeting. These notes can be a great takeaway for your audience and will help them review the information you are presenting.
Tip
Many speakers give out their handouts after their speeches. This way, audience members won't skip ahead in the presentation or spend the whole time reading the notes.
1.

With the presentation for which you want to print handouts open, choose File > Print (Command-P).

Here, we're using 06Photo Portfolio.key.



2.

In the menu below the Presets menu, choose Keynote.



3.

In the Print options, select Handout.

This option prints multiple slides per page as well as other user-specified information.



Tip

Want a simpler handout? Select Outline and just print your outline instead. This will create a text-only version of your presentation.

4.

Use the pop-up menu under the Presets menu to access and adjust other printer options such as the number of copies and print quality, and then click Print.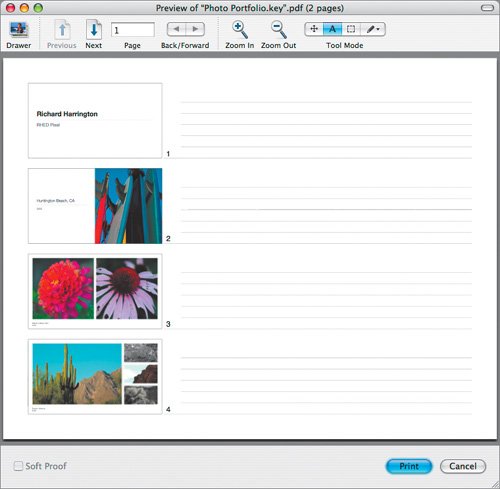 Tip
To see what your printed pages will look like without using any actual paper, click Preview in the Print dialog box. Keynote will generate a temporary PDF file from your document and display it in the Preview application. If you like what you see, click the Print button in the lower-right corner of the Preview window. If what you see is not what you were expecting, click Cancel.
Tip
To save printing costs (and speed up printing), use the Draft-quality printout option.