The ideal way to monitor your child's site is to visit it often and look around. If your child has a private profile, have him or her add you as a friend so you can check in every now and then. Ask for the URL (Web address) of your teen's page. If your child doesn't give you that information, you may still be able to find it.
Searching for Your Child's Profile
If your child has a public profile, youor anyonecan find his or her MySpace site, provided you know what to look for.
To access the MySpace search feature, follow these steps:
1.

On any page in the site, click Search on the blue navigation bar at the top of the page. On the MySpace.com home page, you can also use the Search box on the right. If you use the Search box, first select the MySpace radio button under the text box, so you'll be searching only MySpace and not the entire Web (Figure 6.8).



Figure 6.8. Make sure you're just searching MySpace (if you're looking for a profile on it) by selecting the MySpace radio button, and then type your child's info into the Search field.




2.

Type your child's name, email address, or what you think might be the display name or screen name (a kind of nickname) in the Search field, and then select either The Web or MySpace radio buttons beneath the Search field to indicate the parameters of your search (Figure 6.9).



Figure 6.9. MySpace search works like most Web search engines.



Tip
In some cases, you may need to be a MySpace member to access information. If so, go ahead and sign up for a free account; you don't have to put any info in it.
If the information you're searching for appears in your child's profile, you'll see a page where you can view the profile, if it's public, by clicking View Profile. If the profile is private, you will see some information but not the full profile (Figure 6.10).
Figure 6.10. If your child's profile displays and is public, you can click on the blue "View Profile" link on the right to see what the rest of the world can see.

It is quite possible for your child to sign up under a different name, of course, or from an email address you may not be aware of (Figure 6.11). Some teens might decide to tell only certain friends their fictitious name or URL and "stealth" email address or IM screen name, and it'd be tough for anyone else to find the profile. Anyone can get free email addresses and IM accounts from services like Hotmail, AIM, and Yahoo!.
Figure 6.11. This fictitious 14-year-old, "Susie," has a private profile, but anyone can see her first name, gender, age, sexual orientation, location, and the fact she's "here for" dating. If she had posted a photo, it too would be displayed.

You can also try searching MySpace, Google, and other search engines for other information, such as your child's cell phone number, street address, screen name, friends' names, school name, sports team names, or anything else that might show up on the Web or in a profile.
Browsing by School
Another way a parent might search for a son or daughter is to use the Classmate Finder option in MySpace's search area (Figure 6.12).
Figure 6.12. Type your child's school name and other info into Classmate Finder.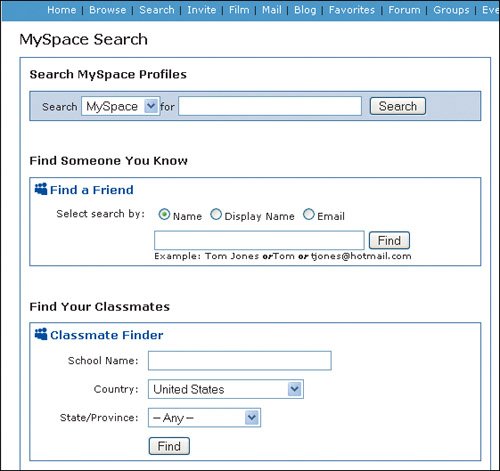 To use this option:
1.

Type the school name in the Classmate Finder search box and also indicate the school's country and state.



2.

When you find the school among your search results, you can narrow your search for your child by gender, age range, and whether your child is a current student or a graduate. You can also enter optional key words (the names of clubs or teams he's a member of) on the right side (Figure 6.13).



Figure 6.13. Provide the search tool with as much info as you can think of to refine your search.



Because some kids lie about their ages, it's best to choose an age rangefor example, from 16 to 100 (a lot of teens are pretty random about their "ages"many just say "100").
Alternatives for 'Tweens
MySpace personnel and site-monitoring technology do look for profiles of kids who appear to be younger than 14, and if they find or receive reports about those profiles, the profiles are deleted. But MySpace staff can't find all of those profiles, and a user whose profile is deleted can just create a new one. If you discover that your child under 14 has a MySpace profile, you can request that it be canceled. But along with doing that, consider helping your child find another outlet for socializing that's more age-appropriate. For example, Imbee.com is a new social-networking site for kids 8 to 14 that includes parental controls, and AOL has a number of kids-only and teens-only services and forums for its paid members (Figure 6.14).
Figure 6.14. Tweens from 8 to 14 years old can socialize online with a little more supervision at lmbee.com.