Download CD Content
Jason Booth
Wow! That was a lot of theory to take in. Now we're ready to dig into using the program that does it all: DirectMusic Producer. DirectMusic Producer is a complex program with a steep learning curve. While this section is not meant to be artistic, it demonstrates DirectMusic's basics, as well as the fundamentals required to use the program in a production environment. We also revisit some basic ideas key to using DirectMusic, including variation, styles, and chord changes. Our goal is to create a simple blues that uses DirectMusic's recomposition features to follow chord changes.
Getting Started
Insert the CD included with this book into your CD-ROM drive, as we refer to MIDI files on this CD for the note data in this chapter. Open DirectMusic Producer and create a new project by selecting File>New from the menu and selecting a project in the dialog box. Name your project, and choose a storage location for its data on your hard drive. Select File>Import File into Project>MIDI File as Segment from the menu. Navigate to the Unit I\Chapter 5\Tutorial Part One directory on the CD and select the file

Tutorial_Bass_Melody.mid. The Segment opens automatically in the main screen of DirectMusic Producer.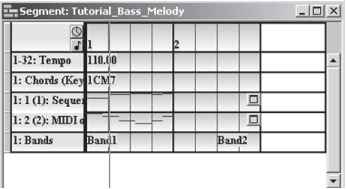 Figure 5-1: A DirectMusic Segment file, created from a MIDI sequence.
This Segment has several tracks of data in it. The first is a Tempo Track, which controls the speed of playback. The second track is a Chord Track, which controls how DirectMusic transposes other Segments over this Segment. The next two tracks are Sequence Tracks containing note data. The final track is a Band Track, which controls the instrument patching.
Often, when importing data from sequencing programs, the data requires some amount of cleanup. In this case, there are several problems; first, the Segment is two bars long, yet the music in the Sequence Tracks is only one bar long. To fix this problem, right-click on the title bar of the window and select Properties.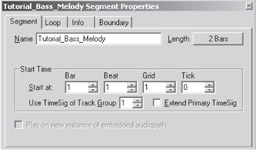 Figure 5-2: The properties dialog box.
| | | |
| --- | --- | --- |
| | Note | Almost everything in DirectMusic has a properties dialog; our Segment itself has one, as well as each track and each piece of data in each track. |
Click on the button next to Length, and set the number of measures to one.