You can download movies from the Internet, and enjoy them on your wireless mobile computer, in just about the same way you can download music. From a technical viewpoint, digital files are just digital files, and there is not much difference between movies and sound.
As with sound files, you need a player to view movie files. Both RealPlayer and Windows Media Player provide this facilityso it's likely you already have the right player on your laptop with Intel Centrino mobile technology. If you need to install this software, it is freeand you will be prompted through the installation steps if you need a media player to support a particular movie file (and don't already have the player you need).
Once again, as with sounds, how much you'll enjoy the movie experience on your mobile computer depends on your computer's hardware. I do recommend headsets, particularly if you are trying to watch a movie in a crowded environment. Keeping your movie's sound effects private will keep down ambient noise in general (so others will appreciate it) and will help you enjoy your movie experience.
In a moment, I'll show you a couple of websites that are in the business of providing movies for you to download (one on a pay as you go basis and the other using a subscription model). You should also know that movies are available for free download from peer-to-peer service such as KaZaA, discussed earlier in this chapter. (Once again, just because this content can be downloaded, it doesn't mean it is ethical or legal to use it without the permission of the copyright holders.) In other words, it's not just music that can be shared.
If you search the Web for sites that let you download movies, as you'd probably suspect, you'll find quite a few. One of the most popular is Movielink, http://www.movielink.com, a portion of whose catalog of movies is shown in Figure 7.6.
Figure 7.6. A portion of the extensive Movielink catalog is shown.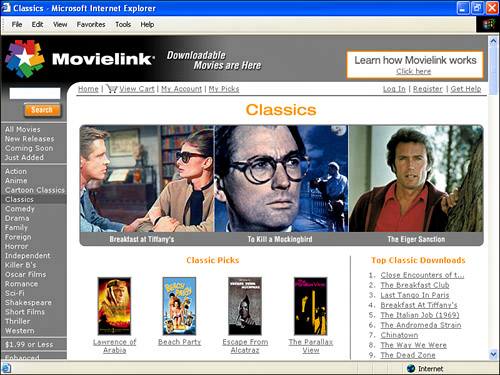 It costs from $1.99 to $4.99 to rent a movie from Movielink for a 24-hour period. The rental period starts when you first click Play, so you can download movies in advance, and your rental period won't start until you are ready to enjoy the movie.
MovieFlix, http://www.movieflix.com, is another popular movie download site. You can see a portion of the MovieFlix catalog in Figure 7.7.
Figure 7.7. MovieFlix, a popular site for online movie downloads, has quite a bit of content available for free.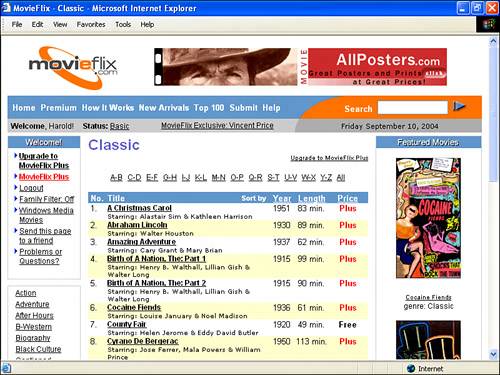 Unlike Movielink, MovieFlix works on a subscription model. For $6.95 per month you can download everything in the MovieFlix catalog. You'll also find quite a number of movies that are free for you to download at MovieFlix.
Another site that rents movies for download using a variety of pricing models is CinemaNow, http://www.cinemanow.com. CinemaNow makes a special point of stocking current movies, so if that's your interest, you might want to check it out.