It's easy to download and play your favorite music on your wireless computer, either from a public hotspot or from your home wireless network. Of course, sound quality will vary depending on your laptop. If the speakers that come with your laptop don't sound good enough for youor you want to save your roommates from your loud and raucous musical tastesyou can always get headsets for your mobile computer.
As I'll show you later in this chapter, there are several ways you can stream music from your laptop to a home audio system via wireless. But for now, let's focus on finding and playing the music on a single mobile computer.
iTunes
Apple's iTunes, http://www.itunes.com, is probably today's largest single legal source of music for downloading, with more than 1,000,000 songs. Limited free previews, and free songs, are available, but for the most part each song costs $0.99. After you have purchased a song from iTunes, you are licensed to burn it on to a CD, to play it on an unlimited number of iPods, and to play it on up to five computers (both Apple and Windows).
TIP
Unlike some other music stores, the music available on iTunes can only be played using Apple's software.
To get started with iTunes, you first have to download the iTunes player, shown in Figure 7.1.
Figure 7.1. iTunes is used to download and play songs on your mobile computer.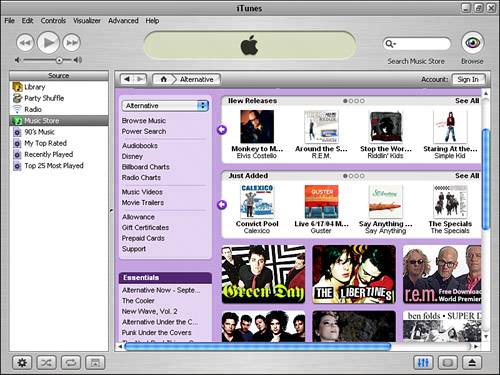 With iTunes downloaded, click the Music Store link (shown on the left side of Figure 7.1) to start browsing the catalog of songs available for sample and purchase.
Music is categorized, so, for example, you can choose to browse Alternative or Country tunes (depending, of course, on your taste).
To purchase tunes, you'll need to establish an account. You can initiate the process of opening an account by clicking the Sign In button shown in the upper right of Figure 7.1. To establish an account, you will need to provide credit card, email, and physical address information.
With an account established, you can purchase a song for download by clicking the Buy Song button shown in Figure 7.2.
Figure 7.2. Click Buy Song to purchase a song.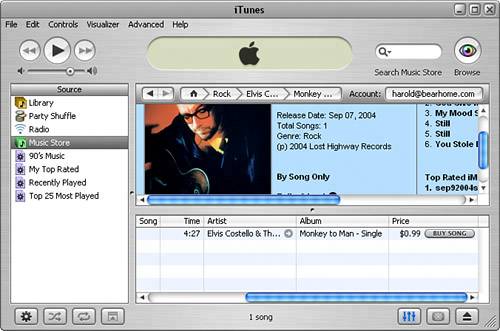 After you've purchased and downloaded the song, you can play it using the controls at the upper left of the iTunes player.
Whether or not you are logged on to an Apple iTunes account, you can play samples of songs by selecting the song and clicking the play button located in the upper left of the iTunes player. For example, Figure 7.3 shows a sample from the song "Wayward Angel" being played.
Figure 7.3. You can play free samples by selecting a song and using the iTunes controls to play it.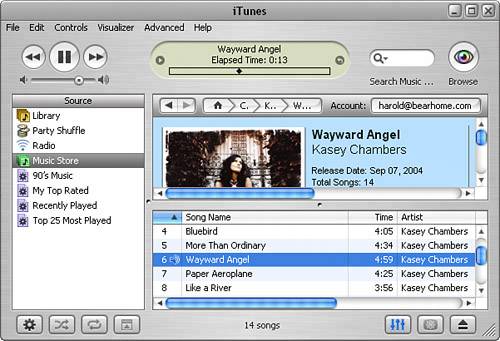 MSN Music
Many other sites besides Apple's iTunes offer legitimate pay-for-download music including MusicMatch and Real Network's Rhapsody. One up-and-comer in this arena worth having a look at is MSN Music, located at http://music.msn.com, and shown in Figure 7.4.
Figure 7.4. MSN Music is a good alternative to iTunes.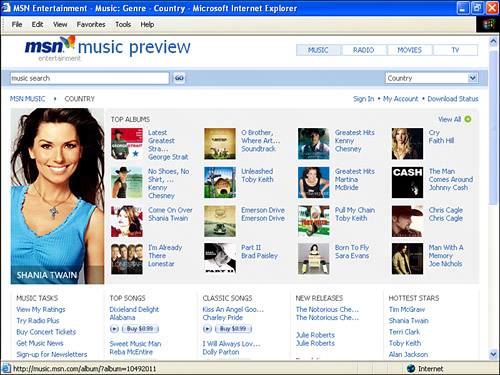 MSN Music is the new kid on the block and doesn't quite have the cool quotient of iTunes. Pricing is more or less the same as iTunes'snamely $0.99 per song.
A Microsoft Passport is used for logging on to MSN Music and paying for your purchases.
But MSN Music does have one important virtue that iTunes doesn't havebecause the music is encoded in the WMA digital computer, it almost certainly can be played using the software already loaded on your mobile computer, so there's no need (as with iTunes) for an additional software download.
Using MSN Music, you can listen to streaming radio (which is something you don't need MSN Music for, as I'll show you in a little while). But the nifty feature is that if you use MSN Music to stream radio and hear something you like, you can buy and download it on the spot.
KaZaA
You probably also know that you can download songs from peer-to-peer file sharing networks such as KaZaA. To get started with KaZaA, you first need to download KaZaA from http://www.kazaa.com. KaZaA comes in two versionsone that is free and has ads and a paid version that costs $29.95.
TIP
As I explain in a moment, the free version of KaZaA installs spyware on your computer, so you should think twice about downloading it!
Music downloaded using KaZaA is free to download and can be played using the software already on your mobile computer. While you can download anything off KaZaA and other peer-to-peer networks for free, this doesn't mean that it is ethical, legal, or safe to do sobecause the content on KaZaA may itself be copyrighted (see further discussion a little later).
As you might know, KaZaA is a peer-to-peer network, meaning that you are downloading music from other people. It is also very popular, with millions of downloads on any given week.
The fact the KaZaA and other similar service are peer-to-peer is both good and bad news. The good news, of course, is that downloads are free. The bad news is that there is no quality control on downloads, and they might even contain malicious software such as viruses and spyware.
The courts have ruled that it is perfectly legal to install KaZaA, and other peer-to-peer services, on your mobile computer. But it does not mean that everyone who makes music available for download using KaZaA has the right to do so. These downloads might not be authorized by the artists who created the songs, who also might never see any royalties from them. This means that by playing music you've downloaded off KaZaA you might be cheating the content creators of that music. Apart from ethical issues, the Recording Industry Association of America (RIAA) has launched enforcement lawsuits against individuals who download and play copyrighted music without permission. So there are risks involved in using KaZaA which may outweigh the "getting something for nothing" it provides. Since there are plenty of sites that let you download legitimate music for small fees (and you know you are not getting something extra like a virus or a lawsuit along with your download), why not stick to them and avoid KaZaA (and help an impoverished musician make a buck while you are at it)?
It's fascinating to explore the world of peer-to-peer networking. Whether you choose to use it to download music for your enjoyment, and under what conditions, islike most things in lifeup to you.
Streaming Radio
As I mentioned earlier, you can stream radio broadcasts to your mobile computer. This is very, very cool because using your connected wireless computer, you can listen to a streaming broadcast anywhere in the world.
It's pretty easy to search the Web for radio stations that provide their broadcasts as streams. You can also use a site that amalgamates a number of radio streams to make them easier to find. One example is MSN Music, which I mentioned earlier. Another is PublicRadioFan, http://www.publicradiofan.com, which provides an easy way to find public radio station streams.
Figure 7.5 shows the PublicRadioFan site with a RealPlayer stream playing jazz from WGBO in Newark, New Jersey. (I know you can't tell from the picture what's playing, but I thought I'd tell you so that you have some idea how good it sounds right now!)
Figure 7.5. PublicRadioFan provides a mechanism for accessing the broadcast streams of many public radio stations.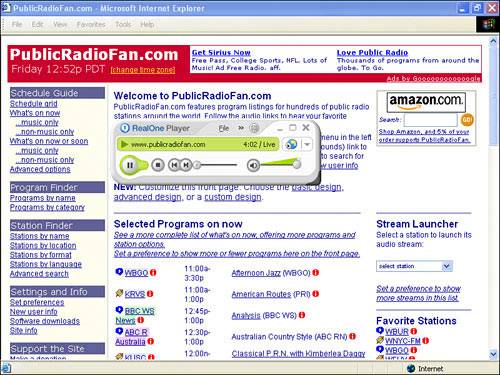 The main PublicRadioFan window, shown in Figure 7.5, displays some of the most popular radio streams that are currently broadcasting. You can click the link for a program that is currently playing to stream it to your mobile computer.
The icon to the left of the station indicates the type, or formatting, of the music stream. Most streams are formatted for use with RealPlayer, as MP3 files, or for Windows Media Player. Don't worry: You probably already have a player for each of these kinds of streams on your mobile computer; if not, you will be prompted to download the right player when you try to stream the sound file. (RealPlayer can be downloaded free from http://www.real.com.)
TIP
You can see many, many more public radio streams by viewing the list of stations in the drop-down list provided by the Stream Launcher, shown at the right of Figure 7.5.