Overview
When Adobe decided to include the Keylight plug-in with After Effects 6, the program's keying capabilities took a huge leap forward. Keylight won an Academy Award for technical excellence, and once you've used it, you'll understand why.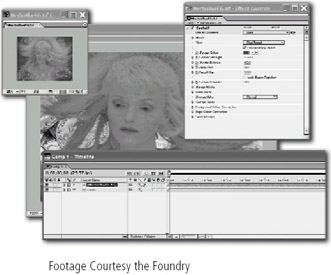 In past versions of After Effects, we achieved professional level keying by using the Color Difference Key plug-in for the bulk of the work and a number of other support plug-ins to help clean up edges and color -correct the final composite. Keylight is a one-stop shop. It can pull a matte, clean up edges, despill and color-correct, all in one interface.
In AE 6, chroma keying is (or should be) the same thing as using the Keylight plug-in, so most of the tips in this chapter relate to Keylight.