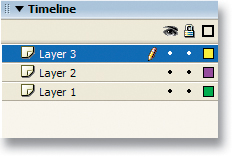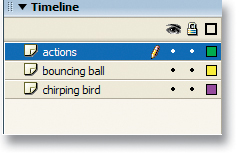 As you add more layers to your document, you'll want to start distinguishing them from each other. Flash attempts to do this for you by giving themselves names like "Layer 1" and "Layer 2," but that will only take you so far.
Eventually you'll want to begin naming each layer according to what you have on them. So if you have a ball bouncing on a layer, you can give it a name like "Bouncing Ball" to keep track. To change the default name of any layer, double-click the current layer name and type what you want.
Believe me, after you have twenty well-named layers on a given timeline, you'll look back to this tip and say, "Thank you, Shane! You're my new best friend." Either that or you won't.