To read or edit an existing document you must first open it from the appropriate applications.
Before You Begin
90 Start OpenOffice.org Applications
93 Start a New File
94 Save a Document

Access Open Dialog
From any of the OpenOffice.org application windows, select File, Open. The Open dialog box appears.
Tip
You can quickly open a file using the Open File button on the Function bar.

Select File
Use the folder icons provided (double-click to open a folder or location in the left pane) to locate the file that you want to open and then select the file in the file list.
Tip
The Open dialog box browses for all document types. If you want to browse for only one file type, such as text documents or spreadsheets, select the File Type drop-down list and select one of the file types provided. This filters the file list by that file type.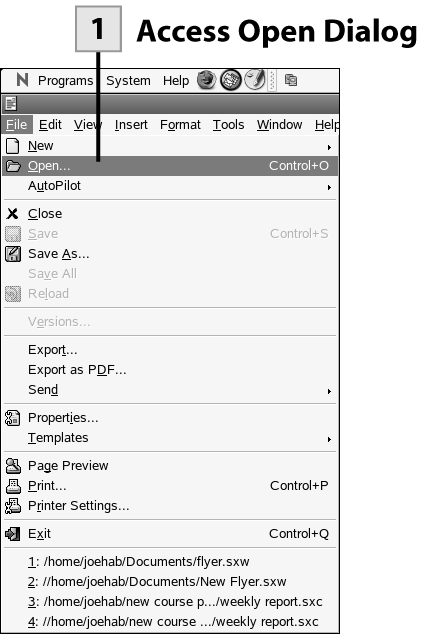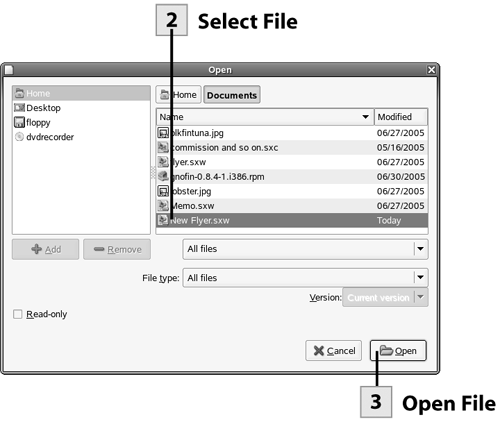 Open File
To open the file, select the Open button.
Tip
You can also open your OpenOffice.org files (and any files for that matter) using Nautilus. Open Nautilus (select Programs, Accessories, File Manager) and browse for the file. After you have located the file, double-click it to open the file in the appropriate OpenOffice.org application.