There will be times when you need to get help as you work in the OpenOffice.org applications. OpenOffice.org supplies three different features that help you get your work done.
First, the Help system allows you to browse the Help contents and search for help on specific topics. Second, the Help Agent, provides context-sensitive help on a particular task or feature. Third, OpenOffice.org provides tips for all the buttons on the various toolbars. You can expand these tips for increased information by selecting Help, Extended Tips from the menu.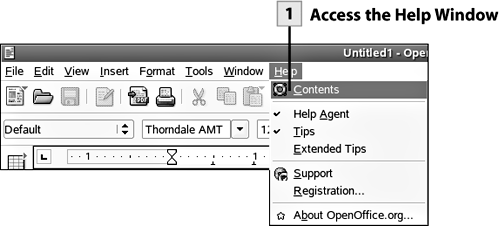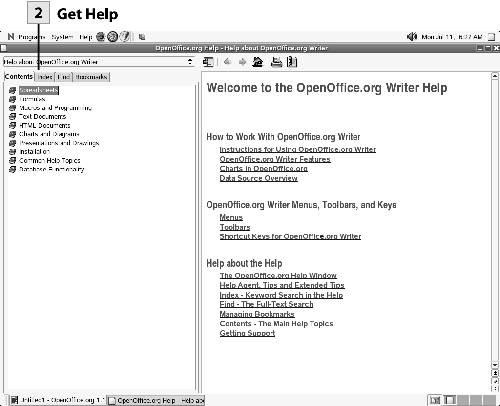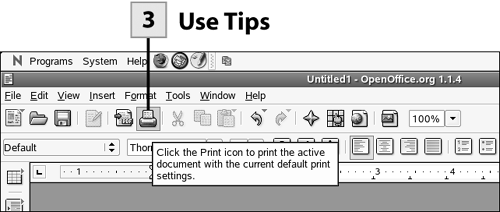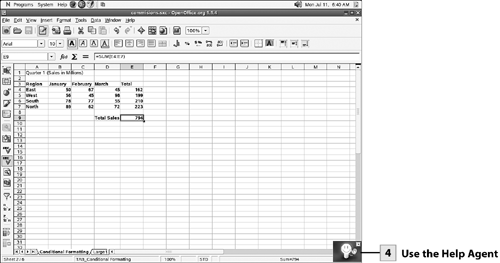 Access the Help Window
To open the Help window, select Help, Contents from the menu.

Get Help
To browse the topics in the Help window double-click on a "book" in the left pane of the Help window. To open a particular topic, double-click that topic. The topic appears in the right pane of the Help window.

To search the index by keywords, select the Index tab on the left pane of the Help window. Type keywords to search the index. To open a topic in the Index list (which appears in the left pane based on your keywords), double-click that topic.

To search the Help contents by search terms, select the Find tab. Type keywords in the Search term box and then select Find. To view a found topic, double-click any of the topics that appear as a result of your search.
Tip
To bookmark a help topic, right-click on the topic and then select Add to Bookmarks. You can then access this topic at any time by selecting the Bookmarks tab in the Help window.

Use Tips
Place the mouse pointer on any of the toolbar icons to view a tip for that tool. If you have enabled Extended Tips on the Help menu, you will receive an extended tip for your tools.

Use the Help Agent
The Help Agent provides context-sensitive help as you perform certain tasks. As you work in an application, the Help Agent appears in the lower right of the application window. Click the Help Agent and the Help window opens, displaying help on the feature that you are currently using.