Having created local replicas of databases, periodically you have to sync them with the originals on your server(s). To do so, you can use the Replication page. The Replication page provides a central location to handle all your replication needs. By using the features available on the Replication page, you can set options to control replication of your mail and any other databases you might use. Access the Replication page by clicking the Replication bookmark.
When you create a local replica of any database, Notes adds an entry for that database to your Replication page. In addition there will be entries for sending outgoing mail and possibly for sending mail directly to the Internet. See Figure 17.3.
Figure 17.3. The Replication page lists all the databases for which you have replicas. Put a checkmark in front of the items that you want replicated.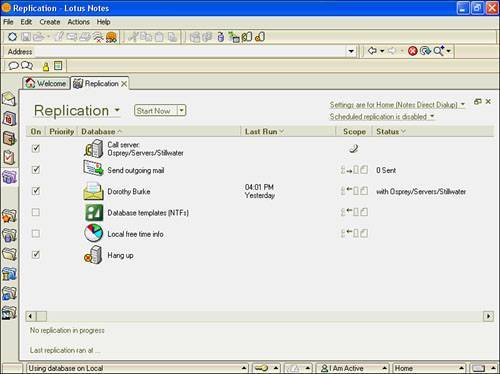 To replicate, click Start Now. To replicate only the mail database and transfer outgoing mail, click the arrow next to Start Now and select Start Mail Only Now.
| | |
| --- | --- |
| | You can also send and/or receive mail without opening the Replication page by clicking the Quickpick button on the status bar. Choose Receive Mail, Send Outgoing Mail, or Send & Receive Mail from the pop-up menu. |
At the bottom of the Replication page, you'll see the progress of the replication. After replication is complete, a note appears at the bottom of the page indicating when the last replication was completed. For information on how the Replication page works, see "Using the Replication Page" in Appendix B.