When you need to work on databases that are stored on the server at the office, but you're working away from the office, you may want to make local copies of the databases. It's a good idea to create the replicas while you are still in the office with a fast network connection because it may take a long time, but not nearly as long as it would take with the slow connection you may have on the road.
The most important database to replicate locally is your mail database. See Figure 17.1 for the Open Database dialog box. Before you begin, verify that you need to make a new replica. There could be one on your laptop already that you don't know about. To find out if a replica is on your computer, right-click the bookmark for your mail file and choose Open Replica. If local appears in the list of replicas, you already have the replica on your laptop.
Figure 17.1. The Open Database dialog box. Some of the databases may be in folders at the bottom of the list, like Mail.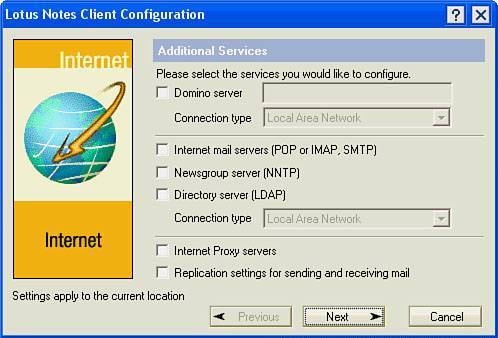 The following procedure will make a local replica of your mail database (or of any other database, for that matter):
1.

Open your mail database, and then choose File, Replication, New Replica from the menu (or right-click the bookmark, and choose Replication, New Replica from the menu).



2.

The Create Replica for Database [database title] dialog box appears (see Figure 17.2).



Figure 17.2. Click the twistie by Replica Settings to encrypt the replica, create a full text index for searching, or have the replica created immediately (versus the next time replication occurs). Encrypt the Replica Using is a default setting; deselect it if you don't need the security or choose a higher level of encryption if you do.




3.

Make sure the Server displayed is Local. Notes automatically fills in the Database and the File path. You can change the path to put the file in a different location if you want, but for your mail database, you should not change the target location. If you do, your mail bookmarks won't work correctly.



4.

Click the twistie by Replica Settings, and then select Create Immediately.



5.

Click OK.