Overview
There are currently 171 management packs registered in the Management Pack and Product Connector Catalog (located at http://www.microsoft.com/management/mma/catalog.aspx). Of those, nearly 60 were developed by Microsoft. In addition, there are about 30 registered product connector packs (http://www.microsoft.com/management/momprodconnectors.mspx), three of which were developed by Microsoft. In comparing these rich ecosystems of management packs and connectors to other products, it is clear that MOM was designed and created with extensibility as one of its primary objectives! Not only is Microsoft embracing MOM, but many other vendors are as well.
A number of hardware vendors supply their own tailored management packs optimized for their hardware solutions. Software companies including Microsoft, eXc Software, and others supply product connectors supporting communications for a range of various pre-existing monitoring systems. In addition, Microsoft provides a Management Pack Developer's Guide and an SDK for your own MOM customization needs.
In this chapter, we cover the following topics:
Common third-party management packs

Common third-party product connectors

The MOM 2005 Management Pack Developer's Guide

Creating MOM management packs

The MOM 2005 SDK

Creating MOM rule responses

Creating MOM applications

Creating MOM product connectors
Before we dive into each of these topics, take a look a Figure 11-1; this diagram shows how all of the various MOM entities communicate with one another.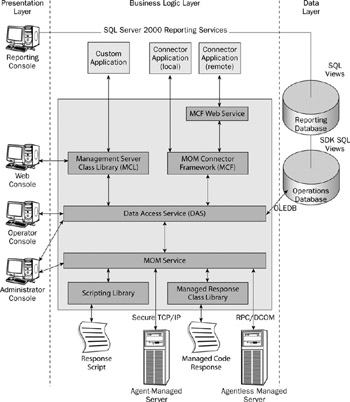 Figure 11-1