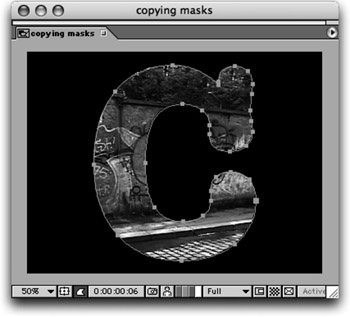 It's possible to create type as masks as well.
In Illustrator, type a letter in a large point size , then go to Type>Create Outlines.

Select the path , copy it, and paste it into AE.

Turn on the stopwatch for mask shape.

Go back into Illustrator and type a different letter and do the same, but this time, in AE move about a few frames down in the Timeline before pasting your type.

Make sure you have Mask Shape selected in the Timeline. AE automatically makes another mask shape keyframe.

Do a RAM Preview, and see AE morph from one letter to another!
Watch out for letters with negative areas as they will paste as more than one mask. Try animating the opacity of the new masks to sync with your morph. You also may want to give Smart Mask Interpolation a try.