Joanne Callahan
New Brunswick Power Corporation, Canada
Cassio Bastos
New Brunswick Power Corporation, Canada
Dwayne Keyes
New Brunswick Power Corporation, Canada
Copyright 2004, Idea Group Inc. Copying or distributing in print or electronic forms without written permission of Idea Group Inc. is prohibited.
Abstract
IT and business are inextricable linked. It is incomprehensible to think the two should ever again be independent. IT Governance will penetrate how IT is executed, as organizations like NB Power endeavor to become better at governing and managing their IT investments. NB Power, in 1998, implemented an IT Governance framework. Through IT Governance the organization was able to address the results of a diagnostic study on their internal IT service provider who was attempting to respond to a seemingly endless list of requests for IT support. Four years later, factors critical to the success of implementing an IT Governance framework are evident. The IT Governance framework is still evolving, but the organization is now well positioned to take advantage of its IT investment.
Introduction
The establishment and implementation of an Information Technology (IT) Governance framework to achieve business objectives through well managed and controlled IT investments is an increasing concern for enterprise. It is difficult to separate an organization's overall strategic mission from the underlying IT strategy that enables the mission. In a report on improving healthcare performance through information management, the Scottsdale Infomatics Institute (2001) suggests that having an IT committee is at least as important as having a finance committee. Finance, they say, is a matter of keeping score, but it is not playing the game. IT is driving the business.
Comments made by proponents of IT Governance at a roundtable discussion during the International Conference of the Information Systems Audit Control Association (ISACA), 2000, suggest that two of the most valuable aspects of organizations around the world are information and the technology that supports it. Often the success of an organization is extensively dependent on the effective management of information and IT systems. Organizations must satisfy the quality, fiduciary, and security requirements of their IT, as they do for other assets.
Williams (2001) contends that as critical business processes increasingly rely on IT, the benefits and risks grow exponentially. Senior executives and boards must actively address the governance of IT together with their other governance responsibilities.
IT Governance is needed because information is of critical importance to enterprise. Given the increasing volume and complexity of information it is difficult to measure value. It is necessary to align, integrate, and determine ownership of information and technology (Williams, 2000).
Prior to the implementation of IT Governance at NB Power, a publicly owned electric utility monopoly, the organization had difficulty maximizing its technology investments to gain economies of scale in IT investments and effectively manage IT resources. The benefits and value of IT investments were a challenge to communicate because the direction of IT in the organization was not clearly articulated. The organization should have been achieving greater value from its IT investment.
This chapter will discuss the business drivers that led one company to implement an IT Governance framework. The evolution of IT Governance over a four year period is illustrated and critical success factors and lessons learned are examined. Finally, trends in IT Governance are explored.
What is IT Governance and Who Should be Involved?
There is no definitive definition of IT Governance. Notable definitions that describe IT Governance include one provided by ISACA, 2000. They define IT Governance as a structure of relationships and processes to direct and control the enterprise in order to achieve the enterprise's goals by adding value while balancing risks versus return over IT and its processes.
IT Governance is also described as how those persons entrusted with governance of an entity consider IT in the supervising, monitoring, controlling, and direction of the entity. How IT is applied will have an immense impact on whether the entity will attain its vision, mission, or strategic goals (IT Governance Institute [IGI], 2001).
Implementing IT Governance is not always easy, nor is IT Governance readily embraced. Williams (2002) suggests that there is no clear governance in many organizations. Therefore, it is considered impossible to establish IT Governance. In the absence of a traditional IT Governance organizational structure, ideas differ when determining who should govern the corporate IT investment. A study from the Scottsdale Informatics Institute (2001) suggests that IT Governance has been lacking because IT has been seen as an operations matter best left to management. Board members often lacked interest or expertise in technology issues.
Contrary to this finding, some believe that IT Governance is the responsibility of the board of directors and, at the very least, executive management (Canadian Institute of Chartered Accountants [CICA], 2002; Board Briefing on IT Governance, 2001; Scottsdale Infomatics Institute, 2001).
Grembergen (n.d.) concurs. He recommends that senior managers should be questioning how they can get their Chief Information Officers (CIOs) and IT organization to return business value or ensure that they do not misappropriate capital funding or make bad investments. Furthermore, senior managers should provide mechanisms like an IT Balanced Scorecard to measure and manage the functions of the IT organization like IT-business alignment and the IT strategy development process.
Williams (2001) contends that boards and executives must become more concerned over IT investments because they ultimately affect shareholder value. He suggests a key question is whether the organization's IT investments are aligned with its strategic objectives, thus building the capability necessary to deliver long-term sustainable business value. IT Governance is a necessity, not a luxury. Organizations must bring IT Governance to the board level because it is not smart business to wait for an IT-related disaster before taking action.
The literature is very explicit in describing the roles and responsibilities of those who govern corporate IT investments, the board of directors or at the very least, the executive management team. The CICA (2002) in a recent report concludes that boards should review the strategic planning process, the approved plan, and performance against the plan. In so doing, they can ensure that the strategic planning process is structured so that IT investments are aligned with business objectives, and that the tactical plan to support the strategy is being executed.
The board must make certain there are policies and processes to ensure the integrity of internal controls and the information systems that are used for management. This function can be fulfilled by assigning the responsibility for the organization's use of and investment in IT to a board member, or IT subcommittee, and ensuring that the individual responsible for IT Governance holds a senior position. The board should be confident that management establishes programs to keep employees knowledgeable and compliant with information and security policies.
Finally, boards must exercise policies and processes that identify the business risks associated with IT, determine the level of risks the organization is willing to accept, and ensure that the risks are being monitored. In managing the risks of IT, boards will exercise due diligence of the IT systems and actively mitigate the risks of IT to the organization.
The IGI (2001) also suggests IT Governance is the responsibility of the board of directors and executive management. It is an integral part of enterprise governance and consists of the leadership, organizational structures, and processes that ensure IT sustains and extends the organization's strategies and objectives.
Boards and executives must provide the leadership, structures and processes that ensure that the organization's IT sustains and extends its strategies and objectives. They should keep themselves informed of the role and impact of IT on the enterprise, assign IT responsibilities, define constraints within which IT professionals operate, measure IT performance, manage IT risks, and ensure the compliance of IT Governance standards (Williams, 2001).
The Benefits of IT Governance
When IT Governance is well deployed, business and IT benefits are numerous. Effective IT Governance helps ensure that IT supports business goals, maximizes IT investment, and appropriately manages IT-related risks. Good IT Governance helps achieve critical success factors by efficiently and effectively deploying secure, reliable information and applied technology (Lainhart, 2001).
Lainhart (2001) suggests that an appropriate IT Governance program helps organizations confidently address critical business issues such as addressing the risks of aging technologies or undertaking e-business. Through IT Governance an enterprise can protect its investment in IT and assure appropriate management of information assets, many of which are vital to the survival and growth of the enterprise itself.
The Scottsdale Infomatics Institute (2001) purports that effective IT Governance protects stakeholders, clarifies IT risks, directs and controls investments, opportunities, risks, and benefits, aligns IT and business, and sustains current operations. Given this mandate, IT Governance should be an integral part of the global governance structure.
Doughty (1998) contends that the effectiveness of the IT Steering Committee is of strategic importance to the overall success of the organization in achieving a competitive advantage from its IT investment. If the IT Steering Committee fails to monitor and supervise IT investment decisions and operations, then it could fail to achieve the corporation's strategic objectives.
Simply put, good governance, whether it is enterprise or IT, is good business (Lainhart, 2001).
A Case to Implement IT Governance
In 1998, NB Power endeavored to implement an IT Governance framework to address the results of a diagnostic study of their internal IT service provider, Business Information Systems (BIS). The results of the study indicated that the corporation had unachieved benefits from their technology investments. IT benefits that could have brought value to the organization were not being realized.
The study also revealed that operational inefficiencies prevented the corporation from gaining economies of scale in IT investments and human capital management. Planning and managing IT to support client requests was difficult because policies, standards, procedures, and methodologies were insufficient.
The morale among IT staff needed to be boosted. This was possibly the result of business units competing for IT resources in a process that was loosely structured and controlled. The requests for IT support and work were voluminous.
The study also suggested the imminent risk of not meeting future business needs because the direction of IT was unclear. Without knowing the direction of IT at NB Power, it was difficult to demonstrate how IT provided value and supported the achievement of business goals.
BIS had requests to support between 150 to 200 business initiatives. Prioritizing and scheduling requests to satisfy client needs was a monumental task. Based on previous experience, the IT senior management team realized the IT division and their clients were about to embark on another frustrating year because of the difficulty in scheduling the requests to deliver completed projects on time while satisfying client expectations. Planning and managing support for clients' requests was daunting. At the same time, the implementation of Y2K preparations required attention, and there was a major initiative to implement the SAP Customer Care and Service module to replace NB Power's legacy customer information system. More stressful, however, was the lack of articulation around business and IT alignment to ensure that IT resourcing would bring the best business value to the corporation. Armed with this knowledge, and knowing that additional requests for new business initiatives requiring IT support were inevitable, the corporate executive team endorsed the implementation of an IT Governance framework at NB Power.
Structures and Relationships
The implementation of the IT Governance framework began with the establishment of two IT Governance committees: the IT Governance executive committee that included vice-presidents and general managers from each business unit of the corporation, and the IT Governance management committee, made up of senior managers to represent all business units and corporate services.
The IT Governance management committee was responsible for recommending an eighteen month plan that aligned business and IT initiatives for executive approval. The executive wanted assurances that the limited budget available for IT was being directed at initiatives which brought the most value to the corporation and helped mitigate corporate risks.
Table 1: Reasons for Implementing an IT Governance Framework at NB Power

| | Business Drivers |
| --- | --- |
| Benefit Realization | Achieve maximum benefits from technology investments. |
| Economies of Scale | Gain economies of scale in IT investments. |
| Maximize Human Capital | Maximize human resource management. |
| Standardization | Standardize methodologies, policies, and procedures for IT. |
| Portfolio Management | Invest in tools for project prioritization and work request management. |
| Strategic Alignment | Set a clear direction for IT within the organization. |
| Communications | Communicate the benefits and value of IT to the organization. |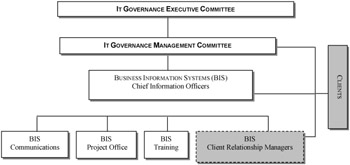 Figure 1: Corporate IT Governance Organizational Structure and Supports
The management committee, in the absence of project prioritization tools, created a set of criteria to determine the value of each IT project in relation to how it supported corporate business objectives, and then ranked the projects according to implementation time and resource requirements. The exercise produced a corporate IT plan that garnered approval from the executive.
The IT Governance committees set about their business with a corporate IT plan in hand, a business depending on a predictable and reliable IT infrastructure, and an IT organization needing guidance.
Existing BIS organizational structures were modified to support IT Governance by overseeing the development of project initiation and delivery methodologies, quality assurance standards, resource planning tools and tools for reporting against the plan.
The role of the Client Relationship Managers became even more instrumental in establishing and building business relationships with clients, improving communications, and enhancing client service delivery. Another IT resource focused on providing an IT education and training to the newly formed governance committees.
A communications strategy to ensure an effective and targeted information flow through the organization was created.
The committees developed charters, established long-term goals around IT-business alignment, and defined their respective roles and responsibilities. The IT Governance Executive Committee was primarily responsible for setting IT direction and priorities consistent with strategic business direction, approving the corporate IT plan, ensuring IT projects achieved desired business results and providing the appropriate process to make the governance bodies effective.
The IT Governance Management Committee was responsible for managing barriers that jeopardized the completion of the IT plan. For instance, they confirmed that budget and human resources were available, and that unresolved cross-functional issues around IT projects were raised to the executive committee for resolution. They ensured that proposals for IT-related work followed defined business case criteria, monitored project implementation and results, and communicated and supported the IT direction of the organization.
The management committee met monthly. They met the executive IT Governance committee quarterly to review the IT plan and approve modifications.
IT Governance at NB Power
The development of IT Governance at NB Power was marked by a series of events that contributed to its evolution, and ultimately changed its structure. For instance, the corporate IT plan, as approved by the executive committee, was quickly challenged. New business unit initiatives requiring IT resources were initiated without the governance committee's knowledge and the committee soon realized that the initial requests for IT support were underestimated. The prioritized plan of sequenced business unit initiatives requiring IT support began to change, as did the scope of the IT projects. The demands for IT work seemed mammoth.
The original members of the management committee began to change. Some members delegated their roles and responsibilities while others moved to new positions. This change in membership was perceived by some as a loss of key strategic thinkers. Although this perception has not been substantiated, it may possibly have affected the committee's credibility. Some committee members believed they lacked the authority to make decisions. Others were not comfortable making decisions because of a perceived lack of knowledge about IT. Meetings between the two committees became less frequent.
Table 2: Roles and Responsibilities

Roles & Responsibilities

IT Governance Executive Committee

Approve the 18-month IT plan.
Approve IT funding.
Approve IT policies.
Ensure alignment between the IT plan and the strategic direction of the organization.
Ensure the money spent on IT brought value to the organization.
Resolve issues beyond the mandate of the IT Governance Management committee.

IT Governance Management Committee

Prioritize IT projects on an 18-month plan.
Recommend an IT plan to the IT Governance Executive Committee.
Resolve issues (i.e., resourcing, systems integration, cross functional issues).
Ensure requests for IT projects have a business case.
Create criteria to determine the value of IT projects.

BIS - Project Office

Adopt project initiation and delivery methodologies.
Research and recommend resource-planning tools.

BIS - Client Relationship Mangers

Help defined client needs.
Ensured communications between BIS and the client.
Help resolve client issues.
Enhance client service delivery.

BIS - Training

Develop an education and training strategy for the Executive and Senior Managers around information systems and technology.
Implement the strategy.

BIS - Communications

Ensure timely communications between the governance committees and the organization.
Amid this seemingly tenuous existence, however, the committees met with success. Soon after the IT Governance framework was introduced, the concept of IT Governance and IT management began to infiltrate the organization, starting with the corporate executive, then the business units.
The executive endorsed several new corporate IT-related policies and standards around Internet and e-mail usage. Others followed. A corporate-wide project initiation and delivery methodology was created.
Executive members without significant IT experience participated in a year long education and training program that focused on addressing the needs of IT at NB Power. Regrettably, a similar plan was started for the management committee but did not achieve fruition.
Two of the committee's most significant contributions to IT at NB Power were the impetus to have project initiation and implementation methodologies, procedures, and templates developed and the creation of local IT Governance committees in each business unit. A team of middle managers and employees formed committees to assess the business value of IT-related projects for their respective businesses. They created tools to determine if requests for IT support aligned with business objectives and if the estimated costs for work provided a return on the investment. The local IT Governance committees made recommendations to the management committee as to whether or not a request for IT support should be considered for inclusion on the IT plan. The local governance committee prioritized the work for their own area based on business value and costs. Project prioritization and changes to the overall plan remained a responsibility of the management committees.
Ultimately though, the IT Governance management committee became frustrated. In fact, the committee stagnated. They believed they were doing little more than sequencing a list of business initiatives that required IT support rather than influencing corporate direction by aligning business and IT strategies. The committee faced a critical juncture: to dissolve their responsibilities or revitalize their original mandate to align business and IT. In 2001, the committee resolved their commitment to IT-business alignment and recommended to the executive that they absolve their current responsibilities and begin the development of a corporate IT strategy: a strategy that was business focused and business driven.
The committee presented the first drafts of a corporate IT strategy and tactical plan to the executive within six months. The strategy, approved autumn 2001, and the three year tactical plan, approved spring 2002, formed the foundation for all IT-related work at NB Power, unless otherwise mandated by government legislation.
The original two committee structures dissolved and one committee of executive members was formed, the Corporate IT Governance committee. Project managers for major capital projects, which are key to the future success of the corporation, participate on the committee until the project is complete. Based on Charles Popper's (2000) holistic framework of IT Governance, the committee accepted a new charter and mandate which elevated its responsibilities from IT project prioritization and management. Popper (2000) proposes three primary objectives for IT Governance and management: (1) fostering strategic and tactical alignment of IT with business; (2) relating the costs of IT to the value it brings to the business; (3) supporting a drive toward operational excellence. The mandate of this committee is not entirely unlike that of the previous committees, but instead of focusing only on IT-business alignment, the new committee will make a concerted effort around all three objectives. The committee is also committed to removing any barriers that jeopardize the completion of the corporate IT plan and strategy. The new committee meets every month.
Four Years Later
As one reflects on the evolution of IT Governance at NB Power over the past four years, it is easy to identify factors that contributed positively to its initiation and growth. The executive support and sponsorship for the implementation of IT Governance at NB Power was critical to its success. The executive team provided corporate business direction and approved funding, and committed their time and that of management to manage the corporate IT plan.
The three Client Relationship Managers were instrumental in keeping the IT department abreast of client needs, educating the client about IT and educating the IT group about business. They were the conduits to effective communication between IT and business.
IT Governance at NB Power was successful because of the structures that supported the committee. Among other duties, resources in BIS, under the guidance of BIS senior managers and the IT Governance Management committee, created tools for project initiation that help capture the value of IT for business initiatives, methodologies for effective project delivery and integration, education strategies, programs, and prioritization tools. These governance mechanisms were critical in helping evolve the committee such that it could begin informal IT-business alignment exercises, make informed decisions regarding project prioritization, and understand how business decisions cannot be made in the absence of IT inputs. The idea that IT decisions must be made in the context of business objectives was also emphasized.
Having representation from all areas of the corporation has helped IT Governance succeed. The interests of every business unit and corporate service were represented, both by executive management and by senior managers. Not only did this structure ensure everyone's needs were being addressed, but it also provided an opportunity for others in the corporation to, either directly or indirectly, influence the way IT was governed and managed at NB Power.
Once the IT Governance executive and management committees were operational, local IT Governance committees were established in some parts of the organization. The local committees, in taking the responsibility to align their own IT-business interests at a local level, freed the other committees time to work on other tasks. One could argue that most importantly, it helped move the responsibility of initial IT-business alignment and determination of value/cost to yet another level of organization, thus permeating business with a greater awareness of IT-business relationships.
As the old adage, "hindsight is 20/20" implies, in looking back on the evolution of IT Governance one can derive many lessons.
A key lesson is that requests for changes to the IT plan or for IT funding must include input from the IT governing committees. This alone ensures that organizations can undertake IT-related initiatives that support organizational goals and strategies.
There is a difference between governance and management. Governance involves directing and controlling while management concerns planning, organizing, and directing. Governance is responsible for making sure the management framework is in place, not for executing it (Williams, 2000). IT Governance committees must resist the urge to manage IT initiatives or resolve issues better left for management teams and steering committees.
Besides ensuring that managers have the tools to manage IT, IT Governance committees need tools to perform their functions. Balanced Scorecards to assess the value of IT, IT auditing processes like COBIT to control IT investments, and best industry practices, like those from the IT Infrastructure Library (ITIL) are necessary for effective IT Governance.
Communications to the organization regarding IT must be effective and timely. Those responsible for governing IT, deploying IT, and requesting IT services must be informed about corporate IT decisions, goals, policies, and standards. Two-way communications between those responsible for governing and managing IT investments must remain open in order to make informed decisions about IT and business.
Business leaders must become educated about IT and those responsible for IT must develop business knowledge. An appreciation of how IT can enable or jeopardize business goals better positions everyone to make informed decisions.
Future Trends
Predicting the future, especially for IT-related matters, is a precarious exercise at best. Researchers, however, make predictions about future trends, often with acute accuracy. Medina, Hollowell and Kline (2002) contend that the utility industry is pursuing a back to basics IT strategy. Senior managers asking to integrate the systems and applications they already have and own in order to get maximum benefits are driving this trend. Medina et al. (2002) say that many energy companies are leveraging their past IT investments rather than making new ones, limiting their technology risks, and insisting that new investments have a good chance of producing demonstrable improvements in operating efficiencies. Despite the challenges regarding how to invest in IT in order to gain the greatest benefit, the authors suggest there are some fundamental strategies and tactical approaches to optimizing investments.
Table 3: Critical Success Factors and Lessons Learned
Critical Success Factors and Lessons Learned
Garner executive sponsorship and support.
Include representation from all areas of the corporation.
Involve the clients in prioritizing the IT support they want to receive.
Ensure that mangers have the tools required to successfully manage the organization's IT investments. For example, portfolio management tools, project methodologies, IT policies, and so forth.
Communicate the direction of IT to the organization.
Educate those making decisions regarding the IT investments about IT.
Create an IT strategy and work plan to execute the strategy.
Monitor and measure progress against the IT plan.
Have executive members approve requests for changes to the approved IT plan.
Have executive members approve IT funding.
Effectively management client relationships and expectations.
NB Power's own experience corroborates this suggestion. One of the six strategic imperatives of their Corporate IT Strategy is enabling realization of value from their SAP™ and PeopleSoft™ investments. Business unit initiatives to realize benefits from their enterprise resource planning (ERP) investments are currently underway and expected to continue for the next three years.
Since energy companies always assess their capital and operational spending because of regulatory, competitive and other economic factors, IT investments are among those items being scrutinized (Nicholson, 2002). Nicholson (2002) anticipates that the principle challenge facing IT organizations in the energy utilities industry is to ensure cost control actions are rational and targeted, and that IT is aligned with corporate strategies. Evidence to support this trend can be found at NB Power. Through the strategic IT planning exercise, the corporate executive team endorsed the strategic imperative of bringing consistent value to major capital projects through IT. This initiative was designed to ensure that technologies like SAP's Plant Maintenance module, being implemented to assist the refurbishment of one generating station, were done in such a manner that they could support other refurbishment projects.
An examination of several case studies that describe the implementation of IT Governance indicate that IT portfolio management is a critical factor for success (City of Mesa, Arizona, 2002; The North Carolina IRMC, 2001; Rosser, 2002). Those who are entrusted to govern the organization's IT investment must ensure that those managing IT have the proper tools and techniques to manage the IT portfolio. IT portfolio management is a disciplined approach for managing IT investments, including hardware, software, resources and projects. It allows organizations to balance risks, value, and costs. Companies can use this approach to identify and reduce redundant activities and then reprioritize their investment (Ward & Finnigan 2002).
Pucciarelli, Claps, Morello, and Magee (1999) predicted that by 2003 seventy percent of enterprises will institutionalize systematic assessment of IT-related projects, formalizing guidelines for project approval, continuation, suspension, and cancellation.
The META Group predicts that less than five percent of top-tier energy companies will begin to apply portfolio management to their IT budgeting process during 2002 and 2003. Between 2004 and 2006, however, adoption rates should increase rapidly and, by then twenty to thirty percent of energy IT organizations will likely be applying the principles of portfolio management in their budgeting. Another trend indicates that IT organizations are moving beyond efficiency to business effectiveness (Nicholson, 2002). In 2002, among CIOs' primary objectives will be the inculcation of value management into IT culture and the implementation of IT portfolio management as a communications and investment vehicle. By early 2004, 50 percent of IT groups will move to IT asset management (Boyle, 2002).
NB Power's own IT Governance experience has led the organization to implement portfolio management tools. Although the tool kit is incomplete, many initiatives are underway. The systems production and support teams are currently implementing ITIL best practices for some of their key processes, like change and incident management. The Business Relationship Mangers are working with the business units to sign service level agreements. A process for requesting IT work was recently implemented.
A pointed question often asked of an organization's IT group is, "Is IT bringing value to the organization and if so, how?" The stakeholders sometimes ask this out of genuine curiosity; other times they ask because of a perceived lack of creditability. When the IT organization finds itself lacking creditability, stakeholders begin to question whether IT investments and the organization itself are delivering appropriate, if any, business value (Gomoiski, Grigg, & Kirwin, 2002). Despite the reason for asking, the question needs to be addressed, though the answer can be nebulous. The definition of value, when there is one, can be subjective, or multiple meanings may exist. Value also depends on one's own perception (Brimson, 2002). Bannister and Remenyi (n.d.) maintain that the meaning of the term is assumed to be implicitly understood in IT literature. Consequently, a good definition to express the value of IT is not available.
Another difficulty with the IT-value question relates to identifying where value comes from. Each link in the business chain has a different concept of value. One of the difficulties in measuring added value is that many organizations do not understand the basic value of IT. Consequently, they cannot comprehend "added" value (Williams, 2002).
Despite the difficulties in defining value, Williams (2002) suggests a trend is emerging where board and executive members are asking, "How can I be sure that I'm getting value from my IT investments?"
Increasing the awareness of boards and executives is instrumental in answering this question. Poole (2001) says that one way to raise awareness of the value of IT is to demonstrate how to link business objectives to IT and then convince board directors why IT is crucial to sustain growth. Nothing that doesn't serve the ultimate goal of attaining business objectives is worth having unless it is driven by law or regulation.
Demonstrating how IT brings value to the organization remains a challenge for NB Power. There are initiatives in place like local IT Governance committees that assess the value of an IT request to ensure alignment with their own business goals before a formal request for support is made to the IT department. However, reputable governance mechanisms like the IT Balanced Scorecard and the COBIT IT assessment tools are not yet employed.
Conclusion
IT Governance, though still an evolving idea, will continue to provide innumerable benefits to those who employ the framework and supporting mechanisms.
Boards and executives, as they continue to discern how IT provides value to the organization and ensure that IT and business are aligned, will provide the impetus to develop standard IT Governance frameworks, mechanisms and processes.
Presently, NB Power's corporate IT Governance committee has had to focus on ensuring alignment between IT and business while revisiting the corporate IT strategy and plan. In May 2002, the Provincial Government announced a major restructuring of NB Power into a Holding Company with four operating subsidiaries. The accomplishments of the former IT Governance committees and local governance groups has better positioned the new committee to meet the challenging needs of restructuring and strengthens NB Power's ability to benefit from further opportunities.
References
Bannister, F., & Remenyi, D. (n.d.). Value perception in IT investment decisions. Retrieved December 14, 2002, from: http://is.twi.tudelft.nl/ejise/vol2/issue2/paper1.html.
Board Briefing on IT Governance. (2001). Information Systems Audit and Control Foundation. (Board Briefing on IT Governance) Illinois, USA: Author.
Boyle, L. (2002). Report: The business/IT dating game. DATAMATION. Abstract retrieved August 9, 2002 from database.
Brimson, J. (2002). Creating forward-looking value statements. BetterManagement.com. Retrieved June 27, 2002, from database.
Canadian Institute of Chartered Accountants. (2002). 20 Questions Directors Should Ask About IT. Toronto, Canada: Author.
Doughty, K. (1998). The myth or reality of Information Technology steering committees. Information Systems Audit Control Association InfoByte, (April). Retrieved April 7, 2000, from database.
Gomoiski, J., & Kirwin, G. (2002). The Business Value of IT and the IS Group Are Not the Same. Gartner, (March), SPA-15-6445. Retrieved April 28, 2002, from database.
Information Systems Audit and Control Association. (2001-2002). Standards Board. IS auditing guideline IT Governance (Research Rep. No. 060.020.050). Illinois, USA: Author.
IT Governance Case Study City of Mesa, Arizona, USA. (n.d.) Retrieved August 1, from: http://www.itgi.org/casestudy1.htm.
Keller, B., & Carr, J. (2001). Enterprisewide governance: The North Carolina IRMC. Gartner, CS-14-5938. Retrieved July 29, 2002, from Garter database.
Lainhart, J. (2001). International standards provide guidance for IT Governance. Retrieved May 3, 2002, from: http://www.ifac.org/News/SpeechArtical.tmpl?NID=99097368215895.
Medina, R.,Hollowell, T., & Klima, C. (2002). How to optimize your IT investments. Platts Global Energy, (April), Feature. Retrieved July 3, 2002, from database.
Nicholson, R. (2002). Portfolio management coming to energy IT. Platts Global Energy, (April), Feature. Retrieved June 8, 2002, from database.
Poole, V. (2001). IT Governance roundtables spur discussion. IT Governance
Popper, C. (2000). Holistic framework for IT Governance. Cambridge, MA: Harvard University, Center for Information Policy Research.
Portal Resources, IT Governance Roundtables. Retrieved, May 10, 2002, from database.
Pucciarelli, J.,Claps, C.,Morello, D., & Magee, F. (1999). IT management scenario: Navigating uncertainty. Gartner, R-08-6153. Retrieved November 5, 2002, from Gartner database.
Rosser, B. (2002). AXA: From emotional appeal to economic model in IT. Gartner, CS-16-5555. Retrieved August 8, 2002, from Gartner database.
Staff. (2001). Closing the governance gap: Bringing boards into the IT equation. Scottsdale Institute Information Edge.
Van Grembergen, W.. (n.d.). The balanced scorecard and IT Governance. Retrieved June 8, 2001, from: http://www.itgovernance.org/resources.html.
Ward, P., & Finnegan, S. (2002). Proven methodology is key to balancing risks with ROI — Aligning IT and business expectations. META Group, Press Room. Retrieved July 18, 2002, from META Group database.
Williams, P. (2000). IT Governance roundtable — Sponsored by the governance institute. IT Governance Portal Resources, IT Governance Roundtables. Retrieved, May 10, 2001, from database.
Williams, P. (2000). Transcript of IT Governance roundtable. IT Governance Portal Resources, IT Governance Roundtables. Retrieved, June 6, 2001, from database.
Williams, P. (2002). Bringing the board online with IT Governance. ComputerWeekly CW360, Strategy, Governance and Organizational Structure. Retrieved June 5, 2002, from ComputerWeekly CW360 database.
Williams, P. (2002). Value versus costs: Governing IT on a reduced budget. ComputerWeekly CW360, Strategy, Governance and Organizational Structure. Retrieved January 18, 2002, from ComputerWeekly CW 360 database.