Need to animate complicated motion paths or have an object move around your client's logo? You can paste Illustrator and Photoshop masks as motion paths in much the same way you can paste them as masks.
In Illustrator or Photoshop, draw a path and copy it.

In After Effects select a layer and hit P to bring up the Position Transform property.

Paste the path.
Paths can also be pasted into other spatial properties like Anchor Point or any effect that has keyframeable spatial properties. Make sure to select the property either in the layer name or source name column. Try this with a simple arc path and paste the path into the Lens Flare>Flare Center property.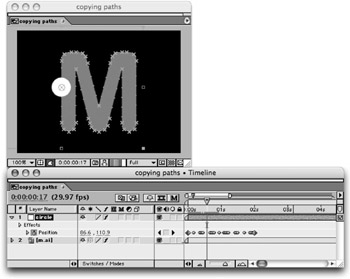 The keyframes in the motion path will automatically be set to rove in time to create a constant velocity along the path. You can adjust the default duration of two seconds by dragging the first or last keyframe to a new point in time.
Besides Illustrator paths, you can also paste paths from Photoshop and After Effects itself