Rotoscoping with Masks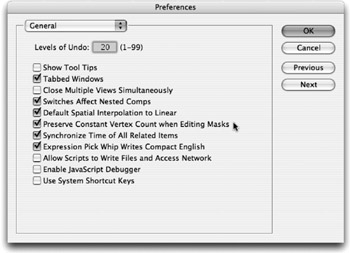 Not handy with a brush? Not crazy about rotoscoping with the Paint Effects? You can do great rotoscoping with masks (although it's tedious .)
For complex areas, split up the job into a few masks rather than trying to animate one intricate mask.

If you're going to be adding or deleting vertices you should go to Preferences>General>Persevere Constant Vertex Count When Editing Masks and turn it off. If you delete a point, you will only be affecting that mask shape keyframe, whereas if you leave Preserve Count it on, After Effects will delete that point throughout your layer.

You should try to maintain your vertex count though. Deleting or adding points to a mask can cause unpredictable interpolation, and can adversely affect motion blur for the mask.