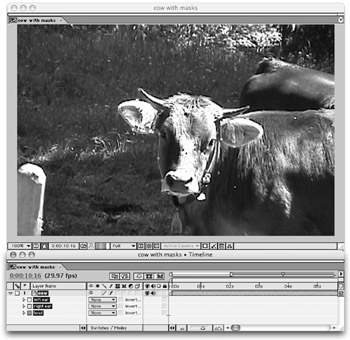 Like anything in life, it's possible to have too much of a good thing. If you use multiple masks, a little organization can save you a lot of time.
Name masks by selecting the mask number, hitting return, type a name and hit return again.

You can change the default yellow color of masks by clicking on the color square by the mask name and selecting any other color. When you change mask color you can visually identify which masks are doing what over time in the composition window.

Change the order of the masks by selecting and dragging them up or down in the Timeline or by selecting a mask and hitting Cmd+[ (that's a left bracket) or Cmd+] (and that is a right bracket ) (Ctrl+[ or Ctrl+]) to move down or up a position.

You can select all the vertices of a mask by selecting the mask name in the layer/source window.

Delete vertex points by selecting the individual points and clicking the delete key.