Connecting to a VPN
Your office might tell you it has a virtual private network (VPN) to which you may connect. A VPN is a collection of cooperating software that simulates a situation in which your machine is directly wired into some remote network via an unbroken cable. Additionally, the traffic on this virtual wire is encrypted, protecting it against prying eyes. Only machines that are also members of this virtual (and private) network can talk to the services provided on this network.
To connect to a VPN, use the Internet Connect application. Internet Connect allows you to connect to PPTP (Point-to-Point Tunneling Protocol) type VPNs, which include VPNs served by Mac OS X Server, Microsoft Windows XP/2000, and to L2TP (Layer 2 Tunneling Protocol) over IPSec (IP Security Protocol), which is supported by Linux, Microsoft operating systems, and hardware VPNs by companies such as Cisco. Setting up your Mac OS X machine as a member of a VPN network is almost anticlimactically simple. Almost all the configuration is handled on the server side, so as a client, you've little to do other than fill in a few pieces of information in a dialog and a VPN connection is installed automatically. You can also set up and save multiple VPN configurations. Figure 7.17 shows the connection dialog for setting up a VPN connection. You can also edit the configuration as needed.
Figure 7.17. Setting up a VPN in the Internet Connect application.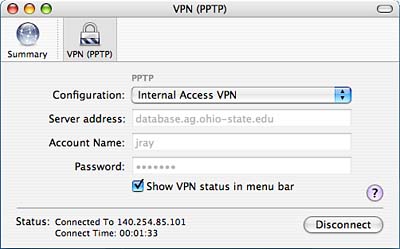 Additionally, you can choose to show VPN status in the menu bar. From the menu bar, you can connect or disconnect, choose to show time connected, choose to show status while connected, and open Internet Connect.
After you have configured a VPN, its configuration is added to the Network preferences pane. Figure 7.18 shows the Network Status subpane with a VPN interface included.
Figure 7.18. The VPN interface is now included in the Network preferences pane.